<!-–TYPO3SEARCH_begin-–>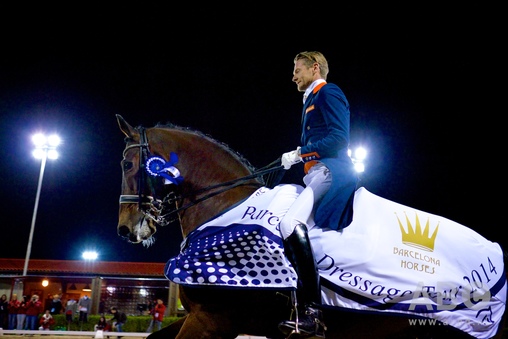 Friday, 04 April 2014
CDI4* Barcelona (ESP)
GLOCK's dressage stars shine
It was a real star welcome! Having travelled to the CDI4*, CDI3* Barcelona Dressage Tour, GLOCK riders Hans Peter Minderhoud and Edward Gal got an enthusiastic reception. Photos with the two dressage stars were much in demand and the GLOCK riders' results were also a hit. Although many dressage professionals made their way to Spain with starting fields of up to fifty riders per competition, our GLOCK pair took top placings every time.
On Wednesday Hans Peter Minderhoud did well on Zanardi with 74.605% and runner-up spot in the Prix St Georges. After this warm-up test, the two competed in the Intermediate I Freestyle on Saturday. Here they gave a convincing performance to win with 76.225%.
In the Grand Prix Tour both GLOCK riders then excelled. Two starts, two wins: that was the result posted by Edward Gal and "golden oldie" Interfloor Next One. Riding the 19-year-old KWPN gelding on Thursday, Edward Gal secured his first win in the Grand Prix with 76.057%. Hans Peter Minderhoud and GLOCK's Tango did a good job with 69.829% and fourth place. On Saturday the GLOCK riders not only captivated the audience, but also the judges in the Grand Prix Freestyle. Edward Gal scored 79.321% for his elegant performance, thus claiming victory with "Nekie". Hans Peter Minderhoud and GLOCK's Tango were also concentrating hard on entering the dressage arena. Their graceful test was rewarded with 74.339% and an excellent second place. A perfect weekend in Spain's spring sunshine!

<!-–TYPO3SEARCH_end–->