<!-–TYPO3SEARCH_begin-–>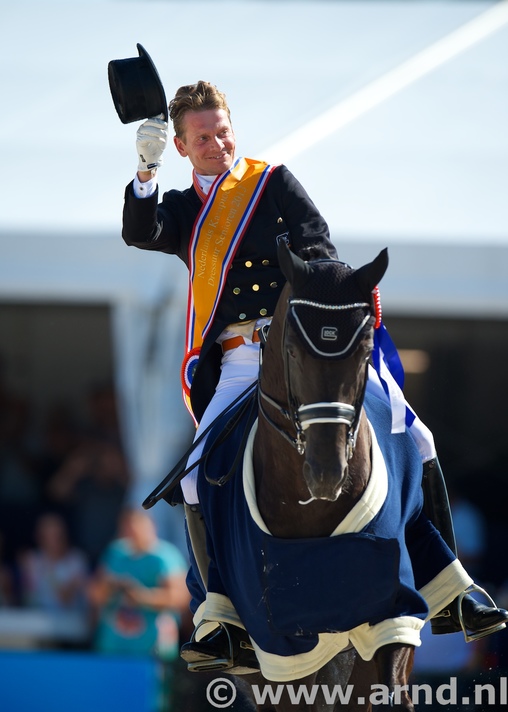 Wednesday, 24 July 2013
Dutch Championships and CIC2* Laintal
A doubly successful GLOCK weekend!
The tension mounted by the day before the Dutch Championships in Haarlemmermeer from 16 to 21 July. Not much wonder, as the results would not only decide the winners of the small and big tours, but also who would be selected for the European Championships in Herning (DEN).
GLOCK rider Edward Gal was competing to defend his title on GLOCK's Undercover and yet under completely different circumstances. Compared with last year, the 12-year-old Ferro son looked more mature and experienced, moved incredibly well, and had both fans and judges on his side. Every performance was a winner: the pair scored 80.787% in the Grand Prix, 82.438% in the Grand Prix Special and 86.650% in the Freestyle. They thus retained the title in the difficult class and secured their ticket to the Europeans.
Also nominated is GLOCK's Voice. Ridden by GLOCK rider Edward Gal, he reached an impressive third in the Grand Prix (75.298%) and second in the Grand Prix Special (76.813%), earning him a listing as a reserve for the Europeans.
GLOCK rider Hans Peter Minderhoud placed his trust in GLOCK's Romanov for the big tour at the Dutch Championships, laid the foundation for good results with 73.191% and fifth in the Grand Prix, also placed fifth in the Grand Prix Special (73.125%) and rounded off the week by finishing third in the Freestyle on 78.550%. The scores put him in fourth overall in the championships and also finally gave him his ticket to the European dressage championships.
Another GLOCK dream team, GLOCK rider Hans Peter Minderhoud and GLOCK's Ziesto, went in for the small tour championship. Three starts, top scores three times and three wins in the Prix St Georges (77.456%), Intermédiaire I (77.325%) and Intermédiaire I Freestyle (82.292%), securing them the championship title in the small tour made it a truly great result this weekend.
The same weekend saw GLOCK eventing rider Katrin Khoddam-Hazrati and GLOCK's Chasanova holding their own against the international competition at the CIC2* in Laintal. After the dressage, the GLOCK pair was in runner-up spot. Two flawless efforts in the cross-country and the jump finally clinched the best Austrian result of the event: third place.
<!-–TYPO3SEARCH_end–->