<!-–TYPO3SEARCH_begin-–>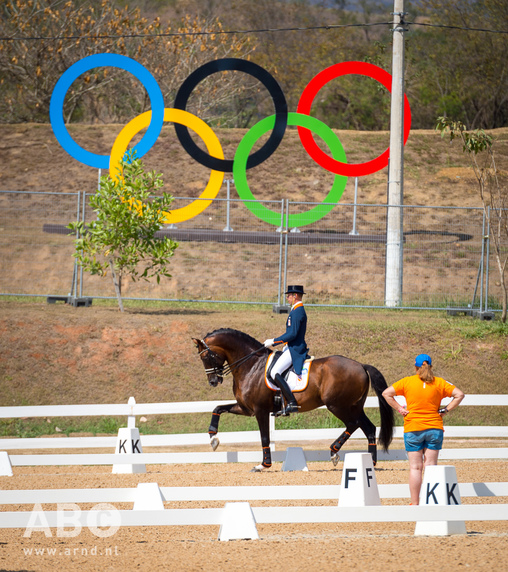 Tuesday, 16 August 2016
Olympic Games Rio 2016
A good finish with 9th place in the freestyle
Having completed a full two weeks in Brazil, today we're finally there. The grand final of dressage of these Olympic Games in Rio de Janeiro takes place today at the Deodoro Olympic Equestrian Centre. Solely the best 18 of the total of 65 dressage riders from 64 countries have qualified to start here, among them Hans Peter. Starting time for Hans Peter and Johnson is 11:20, having ranked in the second third of the best 18.
Yesterday the dressage riders and their horses had a rest day, with a final training session scheduled here in Rio alongside otherwise relaxing activities such as walks. Hans Peter sat for a long time in the stall with 'Johnny'. He had placed his folding chair right by the stall gate, which was wide open. The mighty stallion lowered his head and snorted gently into Hans' ears. What might he have wanted to say?
The sun beats down strongly today, with temperatures around 36 degrees, making it anything but easy for both horses and riders. Johnson's powerful neck glistens with sweat as he enters the trot with Hans Peter. Show time! The music builds up and takes spectators along on a journey through freestyle with the very finest movements. With an extensive gallop, Johnson covers the arena as if there were no bounds. Yet in mere fractions of a second he yields to Hans Peter's mastery, completes two pirouettes, then to exit in a passage. The strong trot demonstrates his capacity for movement, the changes skipped through with ease. On the final section they both give their all once again and, following the salute, there's a surge of cheering. Hans Peter pats Johnson on the neck; well done, and the judges are like-minded. The freestyle score is 80.571%, meaning an ultimate 9th place. That means Hans Peter is also best among the Dutch.
"After the team rating I was somewhat frustrated, given we hadn't achieved our goal. We wanted a medal whatever. But today I really wanted to enjoy the freestyle and my horse. Now I'm really happy, Johnson felt so great, I reckon we've shown what we can do. This freestyle is also much harder. We had prepared the music for the 2014 World Equestrian Games, but that was Johnson's first grand prix season and indeed too difficult back then. I reckoned that it would be OK for this year; he can do it and it all went superbly well. I got the tip about the music from an acquaintance who sent me the piaffe-passage section and we then had the rest of the music composed to fit around it."
The Olympic Games in Rio de Janeiro are now over. Hans Peter, Edward and Nicole will remain for another two days, then return home to embark on new adventures in dressage.
<!-–TYPO3SEARCH_end–->