<!-–TYPO3SEARCH_begin-–>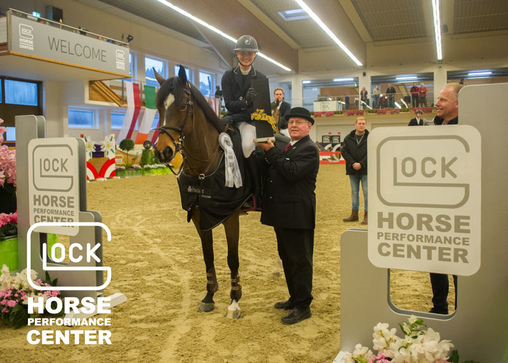 Thursday, 01 February 2018
CSI3* CSIAm-A CSIAm-B CSIYH1*
Dutch triple-triumph in GLOCK's Medium Tour Medium Tour
A 1.30 m high course awaited the 20 participants in the opening jumping competition, GLOCK's Medium Tour. Nine rider-horse duos managed to stay penalty-free in this international standard jumping competition at CSI3* International Show Jumping but, on this opening day, it was 19-year-old Amber Meijer who found the best line. This young female rider from the Netherlands won in the saddle on her just eight-year-old Feline HBC with 78 hundredths of a second advantage over her compatriot Bart Haselbekke. The latter cleared the 13 jumps on KWPN gelding Dorus in 63.26 seconds. Madee Schuttenbeld, just 15 years old, made it a perfect triumph for the Netherlands. With Piccolo R she took third place in 64.80 seconds.

"I managed to get a superb round today and I'm very happy to have won.", said the likeable, beaming winner, who had already taken victory in the Final of GLOCK's Medium Tour in February 2017.

Among the 12 placings in the opening of GLOCK's Medium Tour there were also two Austrian ladies. Representing Vorarlberg in sixth place were Carola Lehner and Contex 9. Alexandra Steiner from Vienna, riding Fanatiker vh Dingeshof, came tenth.
07 CSIAmA - GLOCK's Medium Tour
Int. Standardspringprüfung 1,30 m
1. Feline HBC - Meijer, Amber (NED) 0/62,48
2. Dorus - Haselbekke, Bart (NED) 0/63,26
3. Piccolo R - Schuttenbeld, Madee (NED) 0/64,80
4. Ewings - Klafterböck, Alexander (GER) 0/65,49
5. Call Me Marilyn - Fuhrer, Dominik (SUI) 0/66,12
6. Contex 9 - Lehner, Carola (AUT/V) 0/68,09
7. Querry - Schnabel, Antonia (GER) 0/68,17
8. Ard Luster - Werndl, Katharina (GER) 0/69,12
9. Zen - Boon, Isabelle (NED) 0/72,57
10. Fanatiker vh Dingeshof - Steiner, Alexandra (AUT/W) 4/70,00
11. Balou d'Acord - Golubicek, Eva (CRO) 4/71,07
12. Cepetto - Pietsch, Celina (GER) 4/73,35
Link to results

INFOBOX
What: International Show Jumping
When: 01–04/02/2018
Where: GLOCK HORSE PERFORMANCE CENTER Austria
VIP day tickets: call +43 664 88 73 44 01
Free entry to all competitive events
www.ghpc.at
Fotoanfragen an:
office@glockpress.at
<!-–TYPO3SEARCH_end–->