<!-–TYPO3SEARCH_begin-–>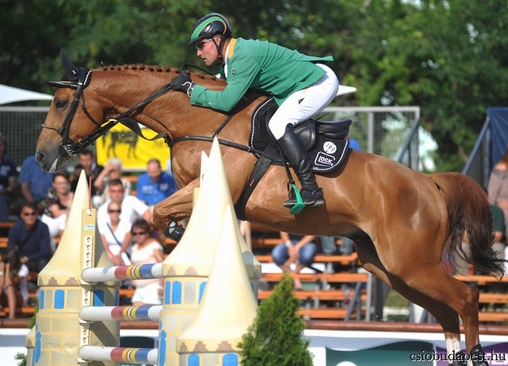 Wednesday, 17 July 2013
From Hungary to Preding
The GLOCK team is successful in many places
It was an eventful weekend for the GLOCK riders from 11 to 14 July. While GLOCK young rider Timna Zach gained a great deal of experience with the Austrian team at the European Dressage Championships for Young Riders in Compiègne (FRA), GLOCK rider Dieter Köfler was extremely successful at the CSIO3* in Budapest (HUN) and the two GLOCK riders Katrin Khoddam-Hazrati und David Tschikof placed at the national show jumping event in Preding (Styria).
GLOCK rider Dieter Köfler had a wonderful weekend with GLOCK's Prince de Vaux at the CSIO3* in Budapest (HUN). Proving to be in top form for the 1.50 m Alpenspan Cup on Saturday, the ten-year-old Selle Français gelding easily qualified for the jump-off. As the last of the 21 starters in the jump-off, the GLOCK pair showed they are not only capable of going clear but also riding fast and placed third in this world ranking competition. The Budapest Grand Prix with its technical course and obstacle height of 1.60 m was a considerable challenge for all the competitors. Dieter and GLOCK's Prince de Vaux just had a slight slip at the water jump but did a good job on the whole in the difficult final to finish sixth.
At the CSN-A CSN-B in Preding (Styria) GLOCK riders Katrin Khoddam-Hazrati and David Tschikof picked up a fair number of rosettes. Katrin Khoddam-Hazrati placed three times in the S* jump competitions on GLOCK's Lightning: eighth on Friday, tenth on Saturday and eighth again on Sunday in the Gold Masters was the new GLOCK dream team's highly successful haul from the event. She also placed in the LM class on Saturday, finishing seventh with GLOCK's Tornado and eighth with GLOCK's Optimist. On Sunday she then came sixth in the Silver Masters with GLOCK's Tornado. David Tschikof excelled on GLOCK's Scolari with a win in the A class on Friday and sixth place in the Amateur Masters on Sunday.
The European Championships for Young Riders were exciting for GLOCK young rider Timna Zach and GLOCK's Federleicht. Although the GLOCK pair was 19th in the individual, just missing qualifying for the final of the best 15, they claimed sixth for Austria in the team together with Oliver Valenta, Florian Lorenz and Franziska Fries.
<!-–TYPO3SEARCH_end–->