<!-–TYPO3SEARCH_begin-–>
News June


Thursday, 13 June 2019
CSI5* CSI2* CSIYH1* 2019
Let the CSI5* show begin!
Van 14 tot en met 16 juni 2019 opent het GLOCK HORSE PERFORMANCE CENTRE AUSTRIA al voor de zevende keer haar poorten voor een 5-sterren-evenement. Bij het...
>> meer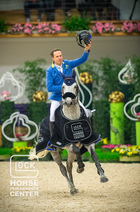 Friday, 07 June 2019
CSI5* CSI2* CSIYH1* 2019
Meet the Best at GHPC Austria!
Wanneer het GLOCK HORSE PERFORMANCE CENTER Austria van 14 tot en met 16 juni 2019 haar poorten opent voor het CSI5* International Show Jumping, zullen de...
>> meer
<!-–TYPO3SEARCH_end–->