<!-–TYPO3SEARCH_begin-–>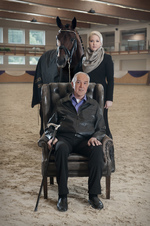 New standards for equestrian sports in Austria
Welcome to the GLOCK HORSE PERFORMANCE CENTER
The GLOCK HORSE PERFORMANCE CENTER is one of Austria's most modern equestrian facilities. For self-confessed horse fanatic Gaston Glock, the planning and building of this exceptional venue is a dream come true. His vision was to create a state-of-the-art environment for the riders and horses that participate in national and international equestrian sports. Located in the southernmost part of Austria, the GHPC offers unique opportunities for events of this kind. In addition to luxury stables, two air-conditioned, heatable indoor arenas and a large covered dressage ring, fans of equestrian sports will also find extensive outdoor facilities for dressage, show jumping and other competitions that are a cut above the rest.
Good is simply not good enough for us
"Perfection" is the magic word that spurs us on every day anew. We want absolutely the best for our horses and everyone that wants to experience top-class equestrian sport at GHPC.
<!-–TYPO3SEARCH_end–->