<!-–TYPO3SEARCH_begin-–>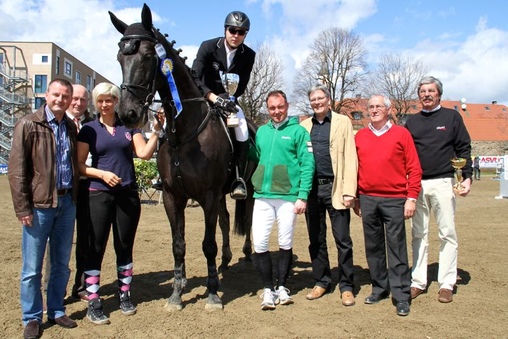 Wednesday, 17 April 2013
GLOCK News: 11—14 Apr 2013
Home successes in Carinthia
Last weekend was some challenge for GLOCK rider Dieter Köfler — as a rider, trainer and above all competition organiser. Hardly surprising when a well-attended national jumping event (CSN-B*) was being held at his Ranftlhof from 12 to 14 April 2013 and at the same time the first round of the Carinthian Summer Cup sponsored by Gaston Glock sr.
However, Dieter took the triple role in his stride and even secured several placings at his home show: riding Cosmo he claimed fifth right at the start in the two-phase LM on Friday and on Saturday he did very well in the same class, finishing second on GLOCK's Bonjour Vieux Pont and fifth on Golden Gun.
At M level Dieter Köfler again gave an impressive demonstration of his skill with top spot for the Alpenspan team rider on Cosmo 2, third on GLOCK's Zyrano and fourth on Golden Gun. The highlight of the event was the Ducal Town of St. Veit Grand Prix on Sunday. Along with three other combinations, Dieter and Golden Gun qualified for the jump-off posting a fast, clear round for runner-up position.
GLOCK rider David Tschikof also picked up one rosette after another at Ranftlhof: eighth place on GLOCK's Zamuro in the style A and second on GLOCK's Timo in the points L made it an ideal start on Friday and then on Saturday came the wonderful win in the style L on GLOCK's Scolari and as a bonus sixth on GLOCK's Timo.
Another three top placings achieved by GLOCK rider Katrin Khoddam-Hazrati and GLOCK's Optimist finally rounded off the successful weekend. In the LM the pair came fourth twice and in the jump-off for the Ducal Town of St. Veit Grand Prix fought hard to clinch third place.
<!-–TYPO3SEARCH_end–->