<!-–TYPO3SEARCH_begin-–>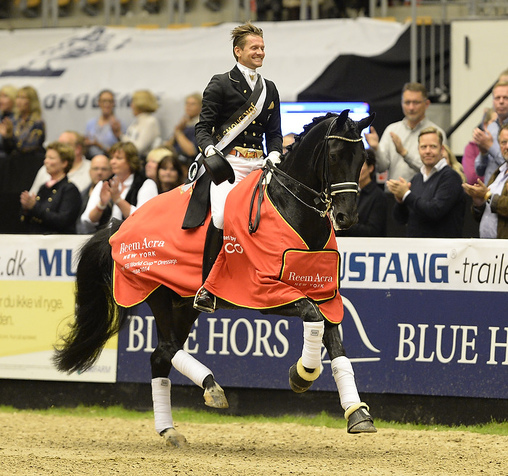 Tuesday, 21 October 2014
Reem Acra FEI World Cup™ Dressage Odense (DEN)
GLOCK's Dreamteam provides goosebumps
Two victories, two fifth places a new personal freestyle-record and the lead in the Reem Acra FEI World Cup™ - what a splendid weekend for our GLOCK Riders Edward Gal and Hans Peter Minderhoud.
The way to the kick-off event of the Reem Acra FEI World Cup™ lead a couple of hundred kilometres north as it took place at the JBK Horse Show in Odense (DEN). While GLOCK Rider Hans Peter Minderhoud counted on his expressive chestnut gelding GLOCK's Flirt, GLOCK Rider Edward Gal could show GLOCK's Undercover again for the first time after a while.
On Saturday (18.10.) the two GLOCK Dreamteams started in the Grand Prix which counted as the qualification for Sunday's Reem Acra FEI World Cup™. Hans Peter and 'Flirty' showed once again how well they harmonize with each other and received a total score of 73,920 % for their Grand Prix which meant the fifth place.
Edward and 'Fritsie' showed a truly outstanding performance which carried away the international judges as well as the numerous fans in the arena and the score made everyone cheer: 84,100 % - that was a new personal record for Edward and GLOCK's Undercover N.O.P.!
Almost every seat was taken on Sunday when the high-class set of starters showed their freestyles. Hans Peter and GLOCK's Flirt performed an expressive and forward ridden freestyle to music and finished their fantastic weekend with a score of 77,425 % and the fifth place. Everyone was excited to see Edward and 'Fritsie' as the penultimate starters and they did not disappoint their audience! The ride of Edward Gal and GLOCK's Undercover N.O.P. in Sunday's Worldcup freestyle to music was simply brilliant. The judges showed the highest mark of 10 points no less than twelve times and the overall score was 88,625 %. Not only was that the second win of the weekend but also the victory in the Worldcup kick-off!
The duo earned the top scores for their technical performance, the harmony as well as the artistic and choreographic aspects. Therefore GLOCK Rider Edward Gal took over the lead in the Reem Acra FEI World Cup™ Dressage 2014/15 Series and Hans Peter Minderhoud is currently fifth. The next stage of the Worldcup will take place in Lyon (FRA) from 29. October to 2. November 2014.
<!-–TYPO3SEARCH_end–->