<!-–TYPO3SEARCH_begin-–>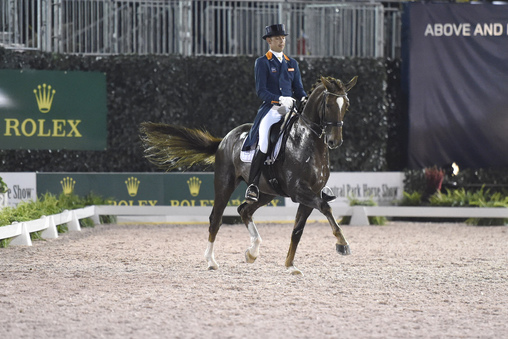 Tuesday, 30 September 2014
Central Park Dressage Challenge
GLOCK's Flirt and Hans Peter enchant New York
From September 18th to 20th the international equestrian world experienced a world premiere. The best riders and their best horses travelled to the USA to be part of the very first Central Park Horse Show presentey by Rolex in the heart of Manhatten. GLOCK Rider Hans Peter Minderhoud and his chic chestnut gelding GLOCK's Flirt were happy to follow the invitation.

Besides high-class show-jumping competitons and equestrian shows it was the dressage riders who drew in the crowds on Saturday evening. Hans Peter and GLOCK's Flirt took the audience on a journey through their beautiful freestyle to music during the Central Park Dressage Challenge which was endowed with 40.000 Euros and received massive applause for their performance. 'Flirty' seemed very smooth to ride and did a fantastic job!

The stunning chestnut sired by Florestan I presented himself in a harmonic, calm, relaxed and expressive way underneath Hans Peter. The international jury rewarded the performance of our GLOCK dreamteam with 78,833 % and therefore the second place behind Isabell Werth and El Santo NRW.

"The journey was absolutely worth it!", said a thrilled Hans Peter. "The backdrop of New York's Central Park is not only unique but simply breathtaking!"

You can watch the complete Central Park Dressage Challenge in the video archive of Central Park Horse Show, the ride of Hans Peter and GLOCK's Flirt starts at 1:12:48.
<!-–TYPO3SEARCH_end–->