<!-–TYPO3SEARCH_begin-–>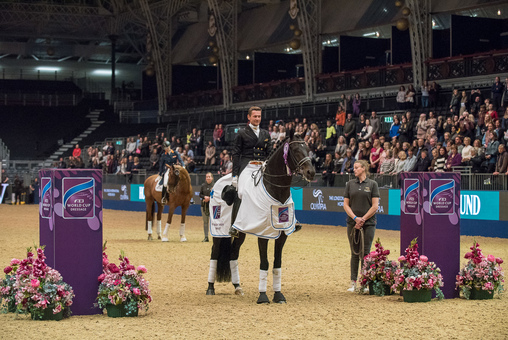 Thursday, 14 December 2017
CDI5*-W London Olympia (GBR)
Victory at Edwards's and GLOCK's Zonik's World Cup debut
For the first time such a long journey, first time dressage World Cup and then victory. GLOCK's Zonik, the just 9-year-old son of Blue Hors Zack from a mother of GLOCK's Romanov, shone in the arena of "Olympia - The London International Horse Show" (GBR) and the audience was thoroughly impressed.

The initial indications for the dressage World Cup in London were anything but good. Whilst GLOCK Groom Vanessa had already left for London on Friday (9/12) with GLOCK's Zonik and arrived safely in London, heavy snowfall and wind had the remaining GLOCK team worrying for hours. They tried to get to London from various airports but all flights were cancelled. In the end, Edward, Hans Peter and Nicole managed to get to England by ferry on Monday (11/12).

Some practice days in London were left out in order to help GLOCK's Zonik to get used to the environment, but Edward remained calm. With a top score of 76.680 %, the audience celebrated the GLOCK Rider and the only 9-year-old DWB stallion as winners of the World Cup Grand Prix. The duo also showed a convincing performance in their first World Cup Freestyle, coming third with a top score of 79.340 %. "I am truly happy" said Edward in the press conference. "The journey was crazy, due to the snow chaos and cancelled flights; it took us almost three days, but it was definitely worth it. GLOCK's Zonik had only a few minor insecurities. But he is only nine years old and has enough time to develop and to get used to everything. I am really proud of him." What a successful World Cup debut.
<!-–TYPO3SEARCH_end–->