<!-–TYPO3SEARCH_begin-–>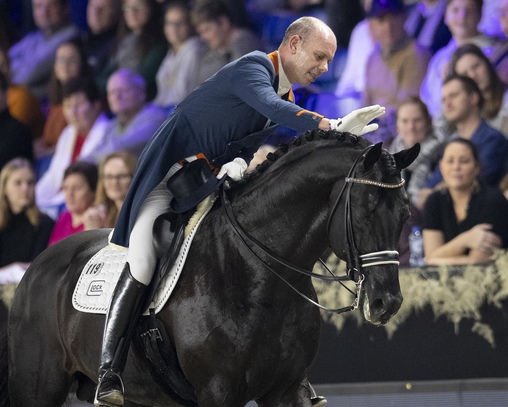 Tuesday, 05 February 2019
FEI horse of the month
GLOCK's Dream Boy is FEI horse of the month
Those outstanding performances by GLOCK's Dream Boy have stirred the world of dressage. At the World Cup in London, the GLOCK duo won the Grand Prix (73,895%) and achieved third in the Freestyle (77,990%). At the World Cup in Mechelen too, it was a convincing performance by the gleaming black KWPN stallion, bred from Vivaldi and a dam sired by Ferro. GLOCK's Dream Boy and Hans Peter Minderhoud achieved third in the Grand Prix and fifth in the Freestyle.

Albeit it was only in April 2018 that the eleven-year-old stallion made his Grand Prix debut under Hans Peter Minderhoud. "Dreamy has a great character, is willing and learns quickly. Originally he was always very excitable, but now he's become accustomed to the tournament environment and achieves much greater concentration", said Hans Peter Minderhoud, who also took part in the 2018 World Equestrian Games in Tryon (USA) with the talented stallion.

From foal to dressage star
Dreamy was born on 9 July 2008. He was the first son of Vivaldi to be licensed in the Netherlands. He was trained as a youngster by Gerdine Maree and, in 2013 at the age of five, he rejoiced in his first successes of fourth place in the Pavo Cup Final and 14th place at the World Championships for young dressage horses. This was followed in 2014 by bronze in the World Breeding Dressage Championships for Young Horses in Verden and second place in the KWPN Stallion Competition. In January 2016 the gleaming black KWPN stallion came to GLOCK Rider Hans Peter Minderhoud for training and, just six months later, GLOCK's Dream Boy won silver at the Dutch Dressage Championships Small Tour. In 2017 the GHPC joined Tim Coomans, Jacques Maree and the Brinkman stables in ownership of the highly promising stallion. "GLOCK's Dream Boy has everything a Grand Prix horse needs. Exceptional talent, outstanding willingness and a great character", was GLOCK Rider Hans Peter Minderhoud's description of the stallion.

Offspring
GLOCK's Dream Boy N.O.P. brings togeth-er the three most important Dutch stallion bloodlines. This long-legged black horse was the first KWPN-licensed son of Vivaldiin this sought-after black colouration who, in turn, embodied the bloodlines of the famous stallions Krack C and Jazz in his ancestry. His mother's father, Ferro, is the father of Edward Gal's famous Olympic horse, GLOCK's Undercover, and grand-father of the Olympic winner, Valegro. GLOCK's Dream Boy N.O.P. is one of the most popular stallions in the Netherlands. He already has licensed sons, including the KWPN Reserve Champion stallion Ierland so tragically lost in 2016. Many of his descendants have achieved high point scores at mare shows and licensing events. No fewer than 11 mares represen-ted GLOCK's Dream Boy at the national mare selection in the Netherlands, with a GLOCK's Dream Boy daughter being de-clared a Champion in four provinces and two being declared as Reserve Champi-ons. He also delivered five of his progeny into the top 10 of the VSN Finals. In 2017, his descendants Ivoli-E and Imagine were Champion and Reserve Champion in the Pavo Cup for four-year-olds. One year later, Imagine won the ranking for five-year-olds. All these successes prove once again that GLOCK's Dream Boy N.O.P. passes his exceptional characteristics on to his de-scendants.

Sport
In order to introduce the talented stallion more smoothly into the sport, GLOCK's Dream Boy was withdrawn from stud service in 2018. This way, Hans Peter Minderhoud could give his full concentration to the FEI World Equestrian Games™ 2018 in Tryon, USA, where he came twentieth. Following the World Equestrian Games, GLOCK's Dream Boy took it fairly easy till his next appearance on the international stage in December 2018 at Olympia, The London International Horse Show. In London, Hans Peter and GLOCK's Dream Boy celebrated a victory in the Grand Prix and third place in the Freestyle. Shortly thereafter the GLOCK duo were in the arena at the World Cup Grand Prix and Freestyle in Mechelen and were victorious in this, the seventh stage of the FEI Dressage World Cup™ Western European League.

As a consequence, Hans Peter Minderhoud and GLOCK's Dream Boy qualified for the FEI World Cup Final, which will be staged in April 2019 in Gothenburg. Indeed a milestone for the just eleven-year-old stallion and ample confirmation for his owners and rider.
<!-–TYPO3SEARCH_end–->