<!-–TYPO3SEARCH_begin-–>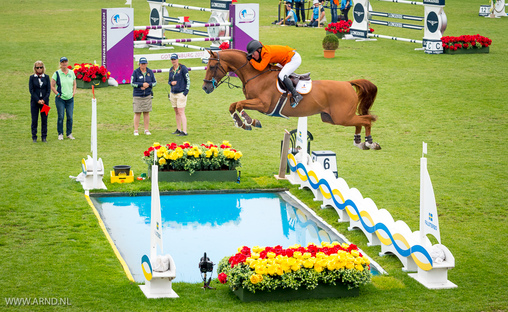 Tuesday, 12 July 2016
CSIO5*-NC Falsterbo (SWE)
Brilliant successes in Falsterbo for Gerco Schröder
Every year, the Swedish peninsula of Falsterbo transforms into a veritable Mecca for equestrian sport fans. Because when the famous CSIO5* Nations Cup Event calls for contestants, the international superstars waste no time. From July 7th – 10th 2016, GLOCK Rider Gerco Schröder also made the trip to the far north of Europe in order to take part in this important tournament with GLOCK's Champions Ludwig and GLOCK's London N.O.P..

During the Opening on Thursday over 1.45 m, both horses already showed they were in good form. Both nine-year-old GLOCK's Champions Ludwig and 14-year-old GLOCK's London N.O.P. stayed penalty-free over the obstacles. Then, on Friday, it got serious. The strong-nerved duo of Gerco and "London" were called up for the Dutch team entry in the Furusiyya FEI Nations Cup™. As so often the case, Gerco went into the arena as final rider for the Oranjes and, once again, did not disappoint his country. Together with GLOCK's London N.O.P., he completed two immaculate rides of the course over 1.60 m and the Netherlands were able to celebrate third place, primarily as a result of this performance.

The Longines Falsterbo Grand Prix, also over 1.60 m, was the illustrious final event of the tournament. Again, Gerco and GLOCK's London N.O.P. gave a convincing and delightful performance.
<!-–TYPO3SEARCH_end–->