<!-–TYPO3SEARCH_begin-–>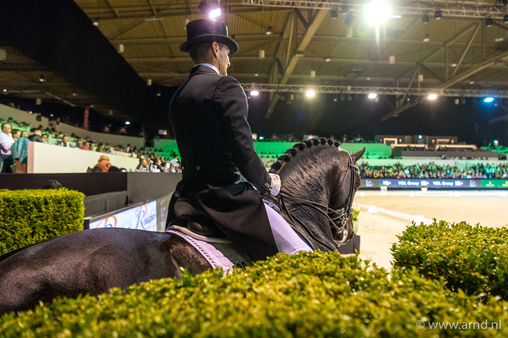 Tuesday, 13 March 2018
CSI5*, CDI-W Indoor Brabant
Brilliant weekend in s'Hertogenbosch
To perform in front of your local audience and especially during the last leg of the World Cup means goose pimples for sure. From March 8th till 11th, the Brabant indoor arena in s'Hertogenbosch was the venue of "The Dutch Master - Indoor Brabant" and, for the duration of four days, on packed grandstands, spectators celebrated all their riders and the GLOCK team was represented by Edward Gal, Hans Peter Minderhoud and Gerco Schröder.

"Supersonic Zonik" was the nickname the media had given GLOCK's Zonik N.O.P.. This extremely talented DWB stallion, progeny of Blue Hors Zack and a mother descended from GLOCK's Romanov, was the youngest horse of this World Cup leg and delivered spot-on under GLOCK Rider Edward Gal. With 77.696 %, Edward and "Zonik" came second in the World Cup Grand Prix. In their World Cup freestyle they also came second with 83.900 %, receiving standing ovations. "It's incredible how fast he's learning and this has only been his third World Cup!" was GLOCK Rider Edward Gal's enthusiastic comment on his powerful stallion. After the last World Cup leg in s'Hertogenbosch, Edward and GLOCK's Zonik are fifth in the overall ranking and have qualified to participate in the finale, taking place in Paris from April 11th till 16th.

GLOCK Rider Hans Peter Minderhoud also delivered a sensational World Cup freestyle performance. He came eighth in the Grand Prix with the grey stallion of Rubels x Avignon (71.152 %) and, till just before the end, the freestyle was also looking like another highlight. But something startled Zanardi and the resulting mistake cost them a place amongst the top eight. (73.980 %).

This weekend, GLOCK Rider Gerco Schröder was able to celebrate a fabulous victory at Brabant indoor arena. After some calm CSI5* kick-off rounds with GLOCK's Lausejunge and GLOCK's Debalia over 1.45 m and with GLOCK's Zaranza over 1.55 m, on Saturday Gerco came 12th in the CSI5* Indoor Derby over 1.45 m with 10-year-old GLOCK's Debalia and took 14th place with GLOCK's Lausejunge in the CSI5* show-jumping over 1.55 m. As a personal highlight, the GLOCK Rider succeeded in rounding off his home-country weekend with a sparkling victory on GLOCK's Debalia in the jumping accumulator over 1.45 m.
<!-–TYPO3SEARCH_end–->