<!-–TYPO3SEARCH_begin-–>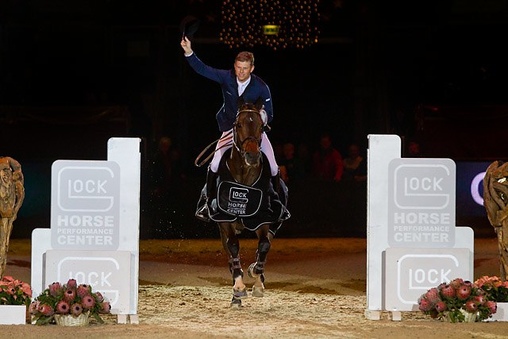 Thursday, 05 June 2014
GLOCK meets MAGNA RACINO
Gaston Glock's MAGNA RACINO Championship
Detailed and loving planning is the motto of hosts Gaston and Kathrin Glock for riders, horses and guests. Gaston Glock, founder and owner of GLOCK HORSE PERFORMANCE CENTER Austria and Netherlands, offers special conditions in equestrian sport and is well known as a big promoter. As a consequence and also to contribute to special equestrian events, selected guest performances are offered outside the GHPC in Treffen: the Gaston Glock's Championships.
Premiere: MAGNA RACINO!
To date the Gaston Glock's Championship has been staged at two venues in Austria: Vienna and Salzburg. Now the third one, the Gaston Glock's MAGNA RACINO Championship, has been given a particularly beautiful setting: the MAGNA RACINO spring festival marking the finale of the MAGNA RACINO Spring Tour
GLOCK-style paradise – time for dreams
A true paradise for horses, riders and guests – paradise for a time. Gaston Glock's Championship emerges like a mirage, with that well-known flair of GLOCK perfection. To this end, a world of its own is created and, in addition to the generous prize money for the world-ranking show jumping event and the organiser, GLOCK follows a special path in equestrian sport.
Perfection meets equestrian sport
The show jumping course consists of specially designed GLOCK obstacles, decorated with beautiful, typically GLOCK-style flowers. The GLOCK cups for the top-three-ranking riders in this championship come from gold smith Martin Schaller's workshop, while seeded riders will receive GLOCK sashes and GLOCK presents.
The announcer at this Gaston Glock's Championship will be a lady whose voice has become internationally well known through other events at the GHPC in Treffen.
The GLOCK music for the prize ceremony was composed by famous Dutch composer Joost Peters, while the award ceremony for the winner and seeded riders will be presented by Austrian television star Christian Clerici.
Gaston Glock's MAGNA RACINO Championship
Place: MAGNA RACINO Spring Festival – Ebreichsdorf (Lower Austria) – MAGNA RACINO
Date: Saturday, June 7th 2014
Start: approx. 4:45 pm
Ranking: FEI Longines world ranking show jumping
Type: International show jumping with jump-off 1.55 m
Prize money: 60,500 euros
Organiser's website: www.magnaracino.at/fruehlingsfest
<!-–TYPO3SEARCH_end–->