<!-–TYPO3SEARCH_begin-–>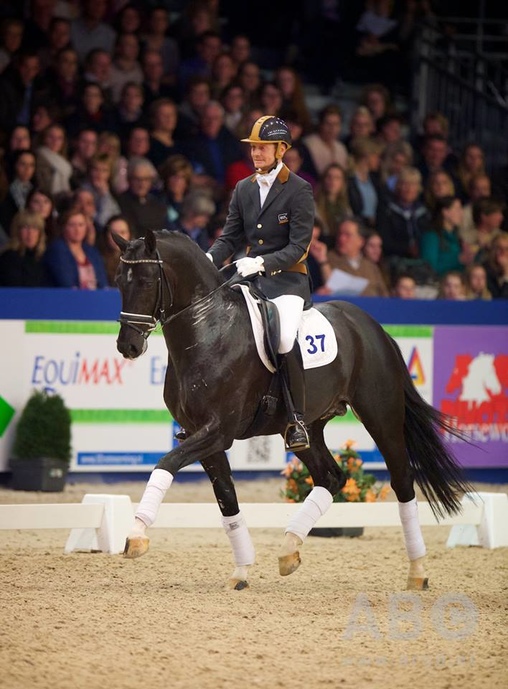 Sunday, 15 February 2015
KWPN Stallion Show (NED)
GLOCK stallions delight spectators in Den Bosch
Past weekend GLOCK riders Hans Peter Minderhoud and Edward Gal, along with GLOCK horse trainer Marieke van der Putten, went with eight stallions to the stallion show and licensing of the Dutch KWPN breeders' association in Hertogenbosch (NED).

GLOCK's Voice (Edward) and GLOCK's Tango (Hans Peter) had had their big appearance when the Dutch team was awarded bronze at the World Equestrian Games 2014. Also the youngsters licensed in 2014, GLOCK's Toto Jr. (Edward), GLOCK's Gironn (Marieke) and Geniaal (Marieke), showed their progress under the saddle to the expert audience. Particularly the first joint appearance of GLOCK's Toto Jr. (Totilas x Desperados) and Edward Gal provoked a lot of interest and cheering. GLOCK's Toto Jr. is the licensed son of Totilas who, with Edward, achieved three World and two European Championship titles, World Cup victory and a silver medal in the European Championships. Toto took it easy and did a fantastic job.

Also GLOCK's Gironn (Uphill x Ferro) knew how to convince the audience and collected admiring looks thanks to his incredible canter. Alongside Geniaal (Vivaldi x Biotop), he was presented by GLOCK trainer-rider Marieke van der Putten.

This year GLOCK's Trafalgar (Totilas x Lord Loxley), born in 2012, achieved what Toto, Gironn and Geniaal had already achieved in 2014: admission to stallion performance testing in Ermelo. The previous owners of Totilas presented GLOCK Rider Edward Gal with the promising stallion some time ago. Now GLOCK's Trafalgar will be going to Ermelo for the first time, where he will take part in the 70 day test for candidate breeding stock.

With Dark President D&R and El Capone, Hans Peter and Marieke brought two more top class stallions to the start. Dark President D&R (Wynton x Ramiro Z), with GLOCK Rider Hans Peter Minderhoud Platz in the saddle, secured second place in the finale of the KNHS/KWPN stallion competition class Z (88 points). GLOCK trainer-rider Marieke van der Putten and El Capone in class M gained 83 points for third place.

A particular cause for celebration was the performance by GLOCK's Johnson's TN progeny Handsome O. This beautiful three-year-old, descended from Rousseau on his mother's side, was not only selected as champion of the qualification for breeding. He also attracted the top price of 300,000 euros in the subsequent auction and will in future be based in Norway.
<!-–TYPO3SEARCH_end–->