<!-–TYPO3SEARCH_begin-–>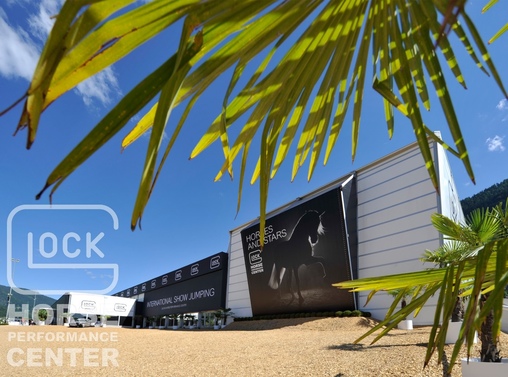 Friday, 11 May 2018
CSI5* CSI2* CSIYH1* GHPC
GLOCK's Summer Feeling – CSI5* International Show Jumping with the best in the world
World stars of show jumping from around 20 nations will meet for the international 5-star show jumping tournament at the GLOCK HORSE PERFORMANCE CENTER Austria from 8th till 10th June 2018. For three days, Olympic winners, world and European champions as well as numerous riders from the world's current top 100 will once again be turning this special venue into an equestrian sports hotspot in this year of the World Equestrian Games. "Horses & Stars", that's the motto of CSI5* International Show Jumping, where contestants and visitors alike can experience outstanding international equestrian sport, exclusive panache and unforgettable top-class show acts at GHPC Austria.

Suspense! Individual medallists from the 2014 World Equestrian Games assembled to start at the GHPC
Show jumping superstars have a very busy tournament agenda in the year of the World Equestrian Games in Tryon (USA). However, all of them will be attending the only CSI5* event in Austria at the GHPC Austria. Heading the strong starting field is the incomparable 2018 World Cup Final winner, US female star Elisabeth "Beezie" Madden, who lives in New York. In 2014 she took individual bronze at the World Equestrian Games in Caen (FRA) behind Patrice Delaveau (FRA | silver) and Jeroen Dubbeldam (NED | gold), and also took to the podium with her US team (bronze). Travelling over from the Dutch world championship team are, amongst others, twice-world and European champion Jeroen Dubbeldam, accompanied of course by his fellow world championship gold and twice silver medallist, GLOCK Rider Gerco Schröder returning to his second home. A member of the French silver medal team from the 2014 World Equestrian Games who certainly won't let the chance to take part and enjoy the unforgettable panache of GHPC Austria slip by is individual silver medallist Patrice Delaveau.
In the total of 12 tests with prize money totalling 596,000 euros, these stars in the saddle will be competing with the current world number three, Daniel Deusser (GER), twice bronze medallist in the 2017 European Championships (Gothenburg), Cian O'Connor (IRL) and, of course, three-times GLOCK's Grand Prix winner Martin Fuchs (SUI), who has a friend and strong competitor at his side in the person of his team colleague, Olympic-winner Steve Guerdat. After all, the two Swiss riders celebrated joint victory in the 2017 GLOCK's 5* Grand Prix.

Especially at the GLOCK's CSI5* Grand Prix on Sunday, where 345,000 euros are at stake, suspense will reach its climax at this magnificent venue. In addition to the highly coveted world ranking list points, athletes here also fight for their qualification for the 2018 World Equestrian Games and 2019 European Championships.

GLOCK Perfection meets equestrian sport
The exclusive nature of the event is reflected not only in the extraordinary cast of participants; the very special ambience of tournaments at the GHPC Austria is internationally renowned and bears the personal signature of the CEO, Kathrin Glock, in every detail. Alongside the sporting highlights, a veritable world of enchantment, focusing on breathtaking design, exquisite catering, captivating live acts and moving contributions to charities for people and animals in need, opens up to participants and visitors alike.

About the GLOCK HORSE PERFORMANCE CENTER
Industrialist Gaston Glock handed his wife Kathrin responsibility for achieving international positioning of the GLOCK HORSE PERFORMANCE CENTER in 2010. Today not only world champions, Olympic medal holders and European champions but also international show stars are delighted to attend.

GLOCK's Entertainment in the Riders Lounge
"Horses and Stars" stands for GLOCK-style high-class entertainment; thus, awaiting guests in the exclusive Riders Lounge are:

• Gourmet entertainment by and with Alfons Schuhbeck
• Wellness Lounge (manicure, pedicure, massage)
• Styling Lounge with star stylist Eren Bektas and his team
• Kids Lounge with creative supervision
• Cinema Lounge for little cinema fans
• Dog Wellness – the very finest dog massage with Manfred Kellenc
• Top-class international show acts

Autograph hour with pop star Dieter Bohlen
Because of the many requests by fans, the super-talent juror will be giving autographs on Friday 8 June 2018 from 3pm till 4pm in the Public Lounge at the GHPC Austria. Simply drop in and meet Dieter Bohlen up close. The Public Lounge on the Glock Horse Performance Center site is accessible free of charge.

Free entry to the Cooking Lounge
German star chef Alfons Schuhbeck will again be delighting all in his Cooking Lounge at the GLOCK HORSE PERFORMANCE CENTER. Here the cooking shows take place on Friday and Saturday at 11am, 2pm and 5pm and on Sunday at 11am and 2pm. All tournament guests enjoy free entry to the cooking shows.

Free entry to all sporting competitions
The tournament arena is accessible to all visitors free of charge. In the Kids Lounge and at the Pony Riding area, fun and entertainment are guaranteed for the youngsters. Dogs have been considered too: in the Dog Lounge there's plenty of sustenance and the very finest of massages (by appointment and subject to availability) for your four-legged friends.

Fully informed
All the information about the competitions, daily summaries, lots of photos and news, along with a live stream and videos of International Show Jumping at the GLOCK HORSE PERFORMANCE CENTER, are all to be found at www.ghpc.at.

INFOBOX
What: International Show Jumping
Whe
n
: 08-10/06/2018
Where: GLOCK HORSE PERFORMANCE CENTER Austria
VIP day tickets: for requests please call +43 664 88 73 44 01
Free entry to all competition events
www.ghpc.at
<!-–TYPO3SEARCH_end–->