<!-–TYPO3SEARCH_begin-–>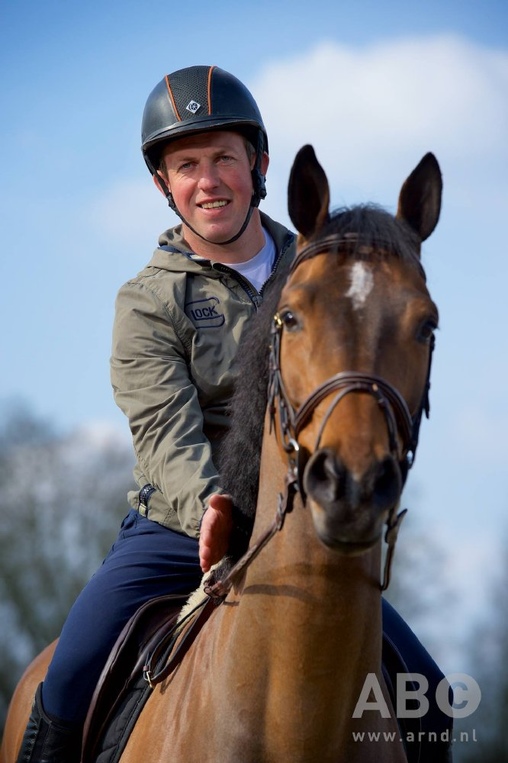 Friday, 03 April 2015
CSI2* Bonheiden & Riesenbeck International
Great results for Gerco and the GLOCK horses!
GLOCK Rider Gerco Schröder participated in two different events last weekend. On the one hand, he took advantage of the CSI2* Bonheiden (BEL) event to ride some relaxed rounds with GLOCK's Cognac Champblanc, GLOCK's Debalia, GLOCK's Lausejunge and GLOCK's Chamonix B. On the other, with GLOCK's Zaranza, he drove to the opening of Ludger Beerbaum's new facility in Riesenbeck where, as an invited rider, he shared with a number of other well-known names from international equestrian sport the honour of inaugurating the new arena.

The latest member of the GLOCK team, eight-year-old GLOCK's Lausejunge, lived up to his name on the first day and bucked hell for leather. Gerco took it with a smile, rode a volte to restore order and gave the little rascal all the time he needed for the rest of the course. Lausejunge thanked him and remained magnificently penalty-free in the other courses.

For GLOCK's Cognac Champblanc, Bonheiden served as final preparation for the big World Cup Final in Las Vegas (15-19/04). Gerco let the tremendously-jumping Holsteiner gelding gallop calmly through the courses and was pleased with the consistently good performance of his grey mount.

GLOCK's Debalia also did an excellent job. This daughter of Numero Uno has been making great progress, thanks to Gerco's calm training work, and she concentrated fully on her tasks over the weekend. The result was three flawless rounds. Also nine-year-old GLOCK's Chamonix B was able to improve his jumps from course to course and is one to watch for the future.

In Riesenbeck, GLOCK's Zaranza was one of the first horses to be allowed to gallop over the brand-new, top-quality surface. Gerco praised the perfect conditions at Ludger Beerbaum's facility and congratulated him on establishing one of the largest arenas in Europe.
<!-–TYPO3SEARCH_end–->