<!-–TYPO3SEARCH_begin-–>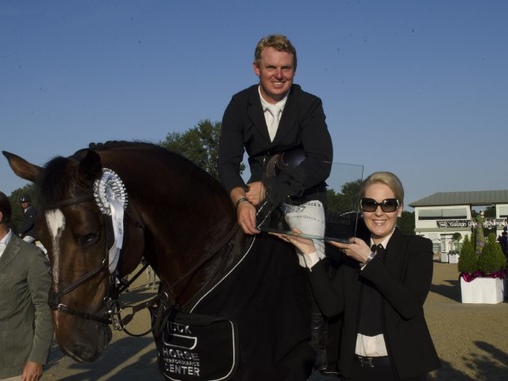 Sunday, 08 June 2014
Gaston Glock's Championat MAGNA RACINO
Jamie Kermond (AUS) proves "Perfection"
Full tiers, great atmosphere and a surprise winner. Today in the context of the MAGNA RACINO spring festival, Gaston Glock's Championat MAGNA RACINO wowed the audience with great sports and the creation of a visual paradise for a while.
For active participants, this world ranking show jumping event, with prize money amounting to 60,500 euros, presented a completely new challenge. No obstacle was similar to the ones of the previous days' MAGNA RACINO spring festival since, as if by magic, a new world had been created. The world of GLOCK perfection. The entire GLOCK show-jumping course was delivered from Treffen with obstacles of its own and specially created GLOCK flower decorations. The side fence shone with the GLOCK Logo and the prize ceremony was accompanied by specially composed music, GLOCK cups, GLOCK sashes, a GLOCK winner's horse rug and GLOCK presents for seeded riders. A magical world existed for a while. The time of Gaston Glock's Championat MAGNA RACINO!
Fifty participating pairs from 19 nations had qualified for this 1.55 m CSI4* show jumping competition, amongst whom stars such as Jessica Kürten (IRL), Cian O'Conner (IRL) and the winner of the last Gaston Glock's Championat in Salzburg, Max Kühner (GER). All of them had to first master the 16-jump basic course with its exquisite flower decoration in order then to give it all for the remaining seven jumps in the decisive jump-off.
Exactly one in ten of the participants succeeded in mastering this. But neither the triple combination along the VIP stand, nor the open water ditch, nor the mighty triple bar at jump three could stop the famous five Jamie Kermond (AUS), Andreas Brenner (GER), Olivier Philippaerts (BEL) or the great Austrian ladies Nina Brand (Lower Austria) and Alice Janout (Lower Austria).
But the beaming winner is from Australia! As third participant, Jamie Kermond got everything just right in the decisive moment. First the Australian rider let his Cassini I son of only 10 years Quite Cassini go forward in a relaxed canter, only then to opt for precise adjustments of speed at just the right moments. Thus, with the only double clear round, he succeeded in creating a sensation: victory in the first Gaston Glock's Championat MAGNA RACINO!
"I never expected to win, but this test was just right for my horse and it worked out well today for us," said the beaming winner in his interview with Christian Clerici.
Andreas Brenner (GER) also had a go with his Cronos 17. With a time of 42.94 seconds, the successful German rider was fastest but ultimately dropping a rail meant second place for him.
Austria's Nina Brand (Lower Austria) was the first to enter the decisive test on her reliance horse Calme P. The Austrian second-ranking national champion opted for a speedy jump-off round and with, one drop off, succeeded in achieving a fantastic third place on her 13-year-old grey stallion.
Austria's second string to the bow, Alice Janout (Lower Austria) and her horse Wodka Lime succeeded in achieving a great fifth place and the results of the remaining Austrian riders were also more than presentable! Fixkraft team and MAGNA RACINO rider Stefanie Bistan (Lower Austria) and Bogegaardens Apollonia ranked ninth, Alpenspan team rider Dieter Köfler (Carinthia) and Emir Vh Moleneind ranked eleventh and GLOCK rider Robert Puck (Carinthia) secured 12th place with GLOCK's Ambelina JB.
GASTON GLOCKs Championat MAGNA RACINO 1.55 m
International jumping competition with jump off
Valid for the FEI LONGINES Ranking List
1 Quite Cassini - Kermond Jamie (AUS) 0,00/47,20 (im Stechen)
2 Cronos 17 - Brenner Andreas (GER) 4,00/42,94 (im Stechen)
3 Calme P - Brand Nina (AUT/NÖ) 4,00/44,17 (im Stechen)
4 Zilverstar T - Philippaerts Olivier (BEL) 4,00/49,43 (im Stechen)
5 Wodka Lime - Janout Alice (AUT/NÖ) 4,00/49,64 (im Stechen)
6 Mystic Hurricane - Shore Keith (GBR) 1,00/86,37
7 Elky Van Het Indihof - De Luca Lorenzo (ITA) 4,00/77,47
8 Ailina 6 - Renner Rüdiger (GER) 4,00/78,86
9 Bogegaardens Apollonia - Bistan Stefanie (AUT/NÖ) 4,00/78,93
10 Lara Croft - Candin Andy (ROU) 4,00/79,04
11 Emir Vh Moleneind - Köfler Dieter (AUT/NÖ) 4,00/79,17
12 Glock's Ambelina Jb - Puck Robert (AUT/K) 4,00/79,28
13 Davendy S - Angot Eugenie (FRA) 4,00/79,66
Ergebnislink
<!-–TYPO3SEARCH_end–->