<!-–TYPO3SEARCH_begin-–>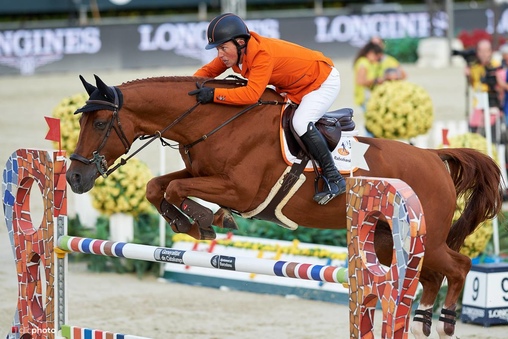 Monday, 26 September 2016
CSIO5*-NC Barcelona (ESP)
Nations Cup success & dressage comeback
Gerco and GLOCK's London N.O.P. in Nations Cup fever
The top countries of the world sent their best riders and horses to the Spanish city of Barcelona from September 22nd till 25th 2016. Naturally, because, at stake at this final of the Furusiyya FEI Nations Cup™ Jumping Series was the Nations Cup Final 2016! Representing the Netherlands, GLOCK Rider Gerco Schröder and GLOCK's London N.O.P. were one of four rider-horse duos to make the journey to the Real Club de Polo de Barcelona.

Together with his team-mates Harrie Smolders, Maikel van der Vleuten and Jeroen Dubbeldam, right away on Thursday (22/09) it was time to muster complete concentration. Featured in the programme was the first round of the Nations Cup Final. The oxers in the course over 1.60 m were mighty, the uprights erected to full extent and the consequences, whilst fair, were tricky. As has often been the case, Gerco and 14-year-old GLOCK's London N.O.P. were the last duo to enter the course for their team. There was a tremendous weight on their shoulders, given that their round would decide the chance to return for the second final round. Over one jump after another, the practised duo mastered every challenge, clearing each obstacle penalty-free, and their time was easily sufficient too. As a result, a place in the final on Saturday was secured. Here too, Gerco and his chestnut stallion, raised from Nabab de Reve x Chin Chin, had a good round that helped the 'Oranjes' to achieve an ultimate eighth place.

GLOCK's Ziesto is back!
There was yet more good news for Team GLOCK the very same weekend from the Dutch town of Someren. There, Hans Peter Minderhoud (NED) took twelve-year-old stallion GLOCK's Ziesto back to the start for the first time following an extended break. The duo's comeback simply couldn't have turned out any better. The son of Lancet made an easy and lithe impression in the Intermediaire II, delighting one and all particularly with his perfect piaffes and pirouettes, gaining high marks as a result. With a score of 77.37 %, Hans Peter and GLOCK's Ziesto won this test by a good ten percent margin, making it clear to all: we're back!
<!-–TYPO3SEARCH_end–->