<!-–TYPO3SEARCH_begin-–>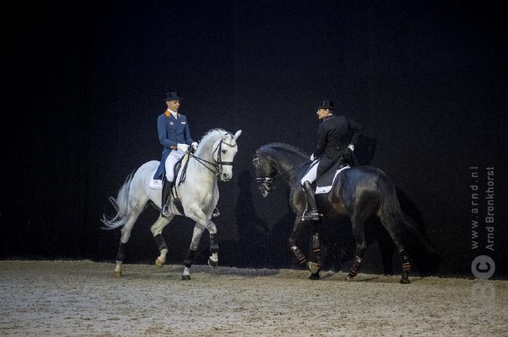 Tuesday, 30 January 2018
CDIW Jumping Amsterdam
Personal record and standing ovations for Edward & GLOCK's Zonik
What a fabulous weekend for Edward and Hans Peter in their home country. The Dressage World Cup in Amsterdam was like a tinderbox of emotions, given the tense anticipation of an appearance by Edward and GLOCK's Zonik. It was already in the World Cup Grand Prix that this Danish-raised, gleaming black stallion, GLOCK's Zonik, demonstrated his pure and immense talent, taking fourth place with a total score of 74.283 %. Hans Peter presented the beautiful grey stallion Zanardi and took ninth place with 71.500 %.

You could have heard a pin drop as Edward and GLOCK's Zonik performed their freestyle on Saturday (27/01). Holding their breath, spectators followed every move of the GLOCK duo's freestyle to music, showing promise of a great future. With a total of 81.860 %, Edward and "Zonik" not only secured second place but also achieved their personal best score, celebrated by delighted spectators with standing ovations.

Also well satisfied was Hans Peter with his horse Zanardi, son of Rubels. Under his experienced GLOCK Rider, this smart 14-year-old KWPN stallion gave a thrilling freestyle and took 11th place with 76.265 %.
<!-–TYPO3SEARCH_end–->