<!-–TYPO3SEARCH_begin-–>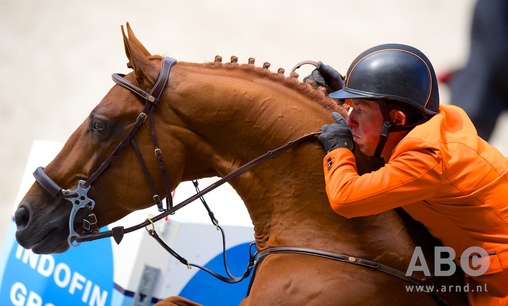 Wednesday, 25 June 2014
CHIO Rotterdam (NED)
Pure suspense and many top ranks in Rotterdam
A dream-like backdrop, sold-out seats and a suspense-packed atmosphere! Whether show-jumping, dressage or driving, from 18th until 22nd of June, the CHIO Rotterdam offered exciting equestrian sports at 5 star level. And with Edward Gal, Hans Peter Minderhoud and Gerco Schröder, no fewer than three GLOCK riders started for the Dutch Nation Cup teams.

Victory and rank two in the Nations Cups!
In a class of its own was the Dutch team in the dressage Nations Cup. All of the first four places were covered by the team riders. Edward with GLOCK's Undercover and 80.780 % positioning himself in the individual test in second place and Hans Peter with GLOCK's Johnson TN and 76.680 % in fourth place. Thus these two GLOCK riders contributed considerably to their team's success in the Nations Cup, which presented an excellent first place with a head start of almost 10% ahead of Denmark, the nation ranking second.

In the show-jumping Nations Cup the suspense could hardly be topped! GLOCK rider Gerco Schröder on his beautiful chestnut stallion GLOCK's London first mastered a clean course in the first round only then, as final rider in the second round, even to raise the pulse of Princess Beatrix of The Netherlands. And it was owed to him and GLOCK's London that, with another error-free ride round this advanced course of a maximum height of 1.60 metres, The Netherlands made it to the jump-off for victory. Exclamations of relief could be heard from the audience when the GLOCK duo again emerged with no errors! In the jump-off, France was confirmed to be the Nations Cup winner and The Netherlands enjoyed second place with Gerco and GLOCK's London!

Second and fourth places in the CDIO5* musical free-style
With international musical free-style performances, Saturday evening was dedicated to the dressage highlight in this year's CHIO Rotterdam. There was not one free seat on the ranks, when the superstars of fine dressage art entered the arena. A sensational presentation was to be witnessed by GLOCK's Johnson TN under GLOCK Rider Hans Peter Minderhoud. He showed a captivating free-style performance with the 12 year old son of Jazz and, with increasing verve, he scored an extraordinary 79.050 % for fourth place! Somewhat too ardently eager was GLOCK's Undercover. But Edward kept nicely cool on his "Fritsie", giving him the necessary peace in this exciting environment to then celebrate second place in this CDIO5* with 81.975 %!

On Sunday show jumping had its highlight. In the CSIO5* Longines Grand Prix of Rotterdam featuring a top starting list, an advanced course awaited 50 active riders saddling their best horses here. It was not only the height of 1.60 m that was challenging here but also difficult distances contributed to the selection. No problem for GLOCK Rider Gerco Schröder and GLOCK's London, who were building up in great shape. Error-free basic course and jump-off led to sixth place in this world ranking show-jumping event!

Two victories and two third places in the CDI3*
In the CDI3*, which was held parallel to the CDIO5*, Edward Gal and GLOCK's Voice were in a class of their own too. The 12 year old KWPN stallion sovereignly danced to victory in both the Grand Prix and the Grand Prix Special, scoring 75.780 % in the Grand Prix and 76.745 % in the Grand Prix Special. A fantastic match are GLOCK Rider Hans Peter Minderhoud and GLOCK's Flirt. The elegant chestnut gelding, offspring of Florestan I, developed extraordinarily and was able to shine in third place in both the Grand Prix (72.220 %) and the Grand Prix Special (72.314 %).
<!-–TYPO3SEARCH_end–->