<!-–TYPO3SEARCH_begin-–>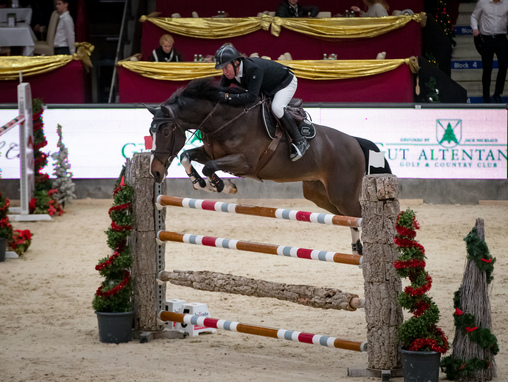 Thursday, 12 December 2019
CSI4* CSIP Amadeus Horse Indoors
Successful Schröder-weekend in Salzburg
With 800 horses, 500 dogs, 7 equestrian sport disciplines and full ranks of spectators, the Amadeus Horse Indoors in Salzburg did full justice to its title of "Austria's equestrian and canine sports festival of Advent". The popularity of this mega-event in Salzburg is down not only to the atmosphere and brilliant spectator support but also the opportunity for top athletes to bring along their students or children to ride in peripheral competitions, thereby ensuring avid interest among riders seeking to start here.

For GLOCK Rider Gerco Schröder, the CSI4* of Amadeus Horse Indoors has been a fixed date in the tournament calendar for years now. This year he also brought both of his kids, Thomas and Lisa, who joined their father in ensuring plenty of success on the jumping courses.

Gerco Schröder rode 15-year-old KWPN gelding GLOCK's Zaranza through a penalty-free round in the Murhof Gruppe Trophy over 1.50 m to take third place, whilst also taking Holsteiner GLOCK's Cognac Champblanc to 12th place in the jump-off for the Stall Römerhof Championat over 1.55 m.

Lisa Schröder, riding her pony Tomahawk, sped round the Logis Super Pony Tour course to take third place in the Opening (65 cm) with 7.5 points, second place in style jumping over 75 cm with a score of 8.2 points and a superb victory in the Grand Prix over 80 cm with a score of 9.0 points.

Thomas Schröder proved himself on his pony Giorgio in the Logis Pony Tour, taking three top-three placings: third place in the Opening (85 cm), victory in style jumping over 90 cm with 8.5 points and third place in the Grand Prix.
<!-–TYPO3SEARCH_end–->