<!-–TYPO3SEARCH_begin-–>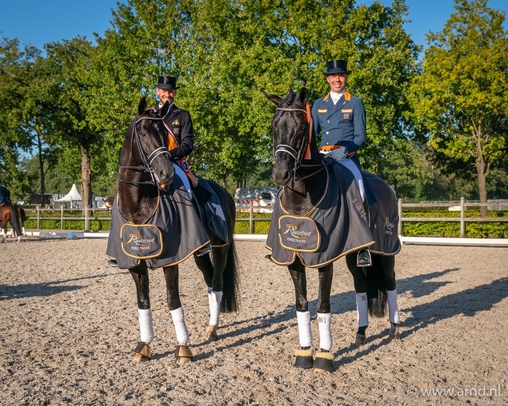 Monday, 21 September 2020
2020 Dutch Dressage Championships
Team GLOCK takes gold and silver
The Dutch dressage championships from September 18 to 21, 2020 were a great double success for Team GLOCK. The challenge for the title in the Big Tour was decided in two competitions, the Grand Prix Special and the Grand Prix Freestyle. Both competitions were won with distinction by GLOCK Rider Edward Gal in the saddle of his talented Totilas son, GLOCK's Toto Jr, with 80.681% and 86.15%. The silver medal went to GLOCK Rider Hans Peter Minderhoud, who scored 76.489% in the Special and 82.525% in the musical freestyle with GLOCK's Dream Boy.

Edward: "It was so emotional for me when we came into the arena. It's been ten years since I rode this musical freestyle, composed by Joost Peters, with Totilas in Kentucky, and I never thought I would ride it again. Today I sat on his son and it felt incredible. Tears were welling up and I was overwhelmed when the audience gave me a standing ovation. I'm so grateful to Kathrin and Gaston Glock for giving us a new 'equine' home, the chance to train such wonderful horses as GLOCK's Total Jr and to know that they will never be sold. I'm very grateful that they trusted us when we proposed to buy Toto. We were totally convinced of him, we saw a future champion and today he showed us his wonderful talent. He is very similar to his father, with a similar character; very intelligent and very affectionate and he looks uncannily like him. Today is an extraordinary day and I want to thank Nicole, Hans Peter and our GLOCK team and of course all our fans. You've been with me through many ups and downs, really happy and really sad moments. Today we want to share this special and wonderful moment. Thank you!"

Hans Peter: "It was his sixth silver medal in a row at the Dutch Championships. I'm very happy with second place. Dreamy was great and it was so nice to be back in the arena after our last tournament in January in Amsterdam."

The gold medal in the Small Tour also went, with a score of 81.375%, to GLOCK Rider Hans Peter Minderhoud on the Jack Sparrow son out of a GLOCK's Voice dam, Invictus.
<!-–TYPO3SEARCH_end–->