<!-–TYPO3SEARCH_begin-–>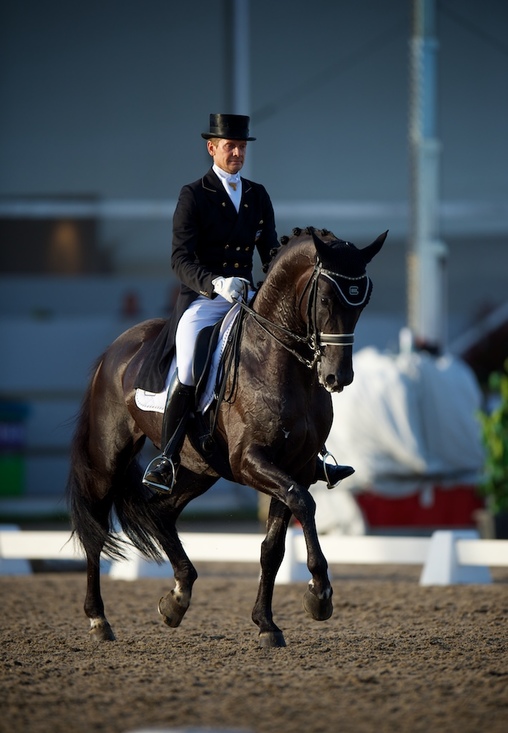 Tuesday, 04 June 2013
GLOCK News
The VOICE of GLOCK
His pedigree is first class, his elegance and willingness to perform in the arena equally so, and the two belong together. Voice, the 11-year-old smart KWPN stallion, now also bears the name GLOCK. Having joined the GLOCK Netherlands dressage team, he is available to his long-standing trainer and partner, GLOCK rider Edward Gal.
As a youngster, the son of De Niro bred by Wil and Isabel van Gisbergen-Sponselee was eighth and seventh in the renowned PAVO Cup and when five years old took part in the World Championships for Young Dressage Horses where he finished tenth. In summer 2010, the talented KWPN stallion came to Edward Gal and the two soon made their first international appearance together at the CDI in Zwolle in 2011. There they caused a sensation by winning and showing jet black Voice's enormous potential with his compact, muscular build, strong hind legs, wonderful freedom in the shoulder, fantastic gaits, amazing charisma and the fact he is the epitome of a stallion.
His spectacular performance at the 2011 KWPN Stallion Show under Edward Gal was unforgettable: Voice got standing ovations and became a celebrated equine star in the Netherlands. Then the black stallion faded from the limelight – following an injury he was given time to rest and fully recover. In 2013, Voice celebrated an incredible comeback with two Grand Prix wins at the CDI in Roosendaal (NED). After a 75% in the Grand Prix at their second international competition in Arnheim, the GLOCK pair broke the 80 per cent mark in the Freestyle on 81.225%!
"A horse can only excel if everything is just right," said breeder and owner Isabel van Gisbergen-Sponselee after Voice's amazing return to the sport. She is happy that Gaston and Kathrin Glock have bought him and he can now stay with his rider Edward Gal.
Best blood for breeding
GLOCK's Voice is an ideal combination of best German and Dutch blood and yet free of Jazz, Ulft and Flemmingh. His sire De Niro reached fifth place in the World Breeding Federation for Sport Horses (WBFSH) list with ten successful offspring competing internationally at Grand Prix level. In his career as a sire, he produced over 70 licensed stallions. His grandsire Donnerhall is the most successful dressage stallion in the world, combining sporting and breeding success like no other in his generation. On the dam side, the combination with Rohdiamant is again highly attractive, as he provides great Rubinstein blood, and the Dutch bloodline speaks for itself: granddam Gelbria produced among others the talented KWPN stallion OO-Seven (a full brother to Rohbria) and her dam Ilbria was the granddam of Olympic horse Barbria. Doruto, the Trakehner stallion in the third line on the dam side, is a legend in the KWPN stud, was the leading WBFSH dressage stallion in 1998 and sired many top dressage horses including Barbria, Ideaal and Chevalier.
The offspring of GLOCK's Voice share his presence, balance and wonderful uphill trot and canter movements. Voice does not produce any chestnuts.
GLOCK's Voice
* 2002, KWPN stallion, black, 168 cm
<!-–TYPO3SEARCH_end–->