<!-–TYPO3SEARCH_begin-–>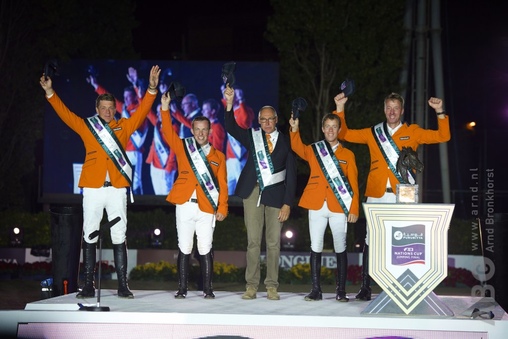 Wednesday, 15 October 2014
Furusiyya FEI Nations Cup™ Jumping Final
Victory in the Nations Cup Final for Team Netherlands with Gerco and GLOCK's London
Just three weeks after the World Equestrian Games in Normandy (FRA) our GLOCK Rider Gerco Schröder and GLOCK's London N.O.P. took off to yet another equestrian highlight. They were travelling to Barcelona (ESP) where the renowned Furusiyya FEI Nations Cup™ Jumping Final took place from 9th to 12th October.

A total of 40 nations from the first division attended the 20 qualifications around the globe in the running season and with Belgium, France, Germany, Great Britain, The Netherlands, Sweden, Spain, Italy, Norway, Canada, Brazil, Venezuela, Australia, Qatar and the USA the top-nations gathered at the final. Being the gold, silver and bronze medallists at the Alltech FEI World Equestrian Games™ 2014 The Netherlands, France and the USA were the ones to beat this weekend and the French had to cope with the pressure of being the defending champions as well.

14 teams participated in the first round of the nations cup final on Thursday (9th October) but only the best eight made it through to the second round and therefore qualified for Saturday evening's final which was endowed with 1.5 Million Euro of prize money. And just like back at the World Equestrian Games the Dutch team proofed that they have the best horses and nerves of steel. Zenith SFN and Jeroen Dubbeldam finished with eight penalty points while Maikel van der Vleuten (VDL Groep Verdi TN N.O.P.) and Jur Vrieling (VDL Bubalu) stayed clear. Gerco and GLOCK's London N.O.P. were last to go and had quite a bit of pressure on their shoulders since only a third clear round could keep the team in the lead. Calm, focused and with tremendous fighting spirit they went into the course, took fence after fence without a problem and the Dutch team cheered enthusiastically - that was the lead!

In Saturday's final the riders had to deal with difficult lines, impressive fences and a lot of cliffs in the course. This time Gerco and London could enter the arena without pressure since all of their teammates remained clear. Therefore Gerco retired after an unlucky fault and spared his chestnut stallion the rest of the course.

The victory in the nations cup final of the Dutch team was an impressive one. The Dutch equipe was the only nation to keep a clean slate and Gerco and GLOCK's London showed once again what a brilliant team they are, how much they fight for each other and that they are a very important part of the Dutch team.
<!-–TYPO3SEARCH_end–->