<!-–TYPO3SEARCH_begin-–>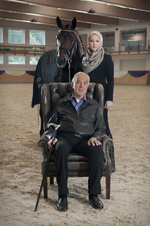 A warm welcome to the GLOCK HORSE PERFORMANCE CENTER NETHERLANDS
In his equitation centres, Gaston Glock, the founder and owner of GHPC Austria and Netherlands offers an ideal environment for riders and horses in top sport.
Since January 2012, the family of Gaston and Kathrin Glock have had a long-standing partnership with the world-famous dressage riders Edward Gal and Hans Peter Minderhoud and the trainer Nicole Werner.
'Perfect down to the last detail and above all planned with a great deal of love' – that is the motto that applies in all concerns in the house of Glock and that can be sensed everywhere.
Good is simply not good enough for us
"Perfection" is the magic word that spurs us on every day anew. We want absolutely the best for our horses and everyone that wants to experience top-class equestrian sport at GHPC.
<!-–TYPO3SEARCH_end–->