<!-–TYPO3SEARCH_begin-–>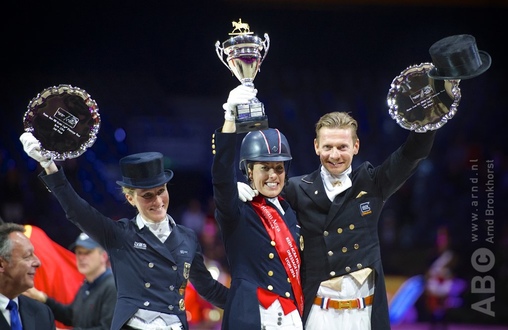 Wednesday, 23 April 2014
FEI World Cup™ Final in Lyon
Two top-ten places in World Cup final!
The grand final of the Reem Acra FEI World Cup™ Dressage held in Lyon from 17 to 20 April 2014 was awaited with great anticipation. Only the best dressage riders had qualified for it at the various World Cup legs in the league. Team GLOCK was represented twice over here with Edward Gal on GLOCK's Undercover and Hans Peter Minderhoud on GLOCK's Johnson TN.
In the Grand Prix on Friday, Edward and GLOCK's Undercover were fifth to start. Warming up proved quite difficult for Fritsie, with all the people, noise and flash lights. On entering the arena, the Ferro son was nervous and therefore somewhat tense but Edward soon calmed him down. The two then gave a strong performance, scoring a total of 80.029% for an excellent third.
GLOCK's Johnson TN ridden by Hans Peter Minderhoud was much more relaxed, taking the excitement of his first World Cup final in his stride. He was rewarded with 73.771% and sixth place among the dressage elite!

On Sunday everyone waited with bated breath for the grand finale, which was started in reverse order. Hans Peter Minderhoud and GLOCK's Johnson TN did very well on all counts. The GLOCK pair, which only recently started competing at international level, produced outstanding passages, smooth flying changes and a harmonious performance all round: 77.625% and eighth place! The future looks promising for them.
It only took the first bars of Secretum Revelatum – Edward's freestyle music – to send the audience into raptures. Guided by Edward Gal, GLOCK's Undercover concentrated well during the test. However, you could tell the black horse that responds so well to his rider's minimal aids was nervous again. Edward Gal gave the audience a master class in dressage, with only a misunderstanding at one transition costing points. The judges awarded the highly coveted maximum score of ten no less than four times. At the end of the stunning performance by GLOCK's dream team, they scored 83.696% and came third in the Reem Acra FEI World Cup™ Dressage Final!


Gerfried Puck placed at the Casino Grand Prix in Linz
The first leg of Austria's prestigious national show jumping series started in Linz-Ebelsberg this season with the Casino Grand Prix powered by muki from 17 to 20 April 2014.

GLOCK rider Gerfried Puck competed successfully with both GLOCK's Celebration B and GLOCK's Chamonix B. Aboard seven-year-old GLOCK's Celebration B, Gerfried Puck placed seventh in the 1.25 m competition for six and seven-year-old horses on Thursday, finished fourth in the 1.30 m jumping in two phases on Saturday and filled runner-up spot on Sunday. Riding GLOCK's Chamonix B on Thursday, Gerfried Puck went in for the 1.40 m S* competition in two phases and claimed fifth place with a fast, clear round.


<!-–TYPO3SEARCH_end–->