<!-–TYPO3SEARCH_begin-–>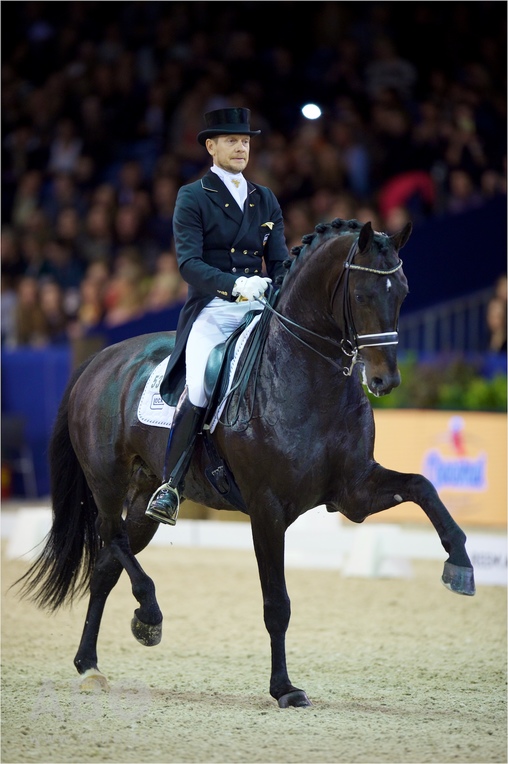 Friday, 05 February 2016
CDI-W Amsterdam/CSI3* GHPC
Team GLOCK scores in both disciplines, dressage and show jumping
As is already the tradition, the last weekend of January is dedicated to the opening event for the international equestrian season at the GLOCK HORSE PERFORMANCE CENTER. This year the dates were from January 28th till the 31st 2016 and once again, countless two- and four-legged stars travelled to the GHPC in Treffen. Of course, this is also a fixed date in GLOCK rider Gerco Schröder's event calendar. This year he presented three GLOCK horses here.

Numero-Uno-daughter GLOCK's Debalia showed her enormous jumping power in the Youngster Tour. The eighth place in the kick-off on Thursday was followed by a top place in the final. Gerco piloted the now eight-year-old KWPN mare penalty-free through the basic course over 1.30 m and again penalty-free over the obstacles in the jump-off to second place in the final.
Gerco also knew how to coax out Dutch-raised stallion GLOCK's Zaranzati's best performance. In the world-ranking show-jumping test over 1.55 m for the GLOCK's 3* Grand Prix, this 12-year-old Karandasj-offspring was one of only seven horses to enter the jump-off, then to achieve fourth place under his experienced rider.

At the same time, the Reem Acra FEI World Cup™ Dressage took place in Amsterdam. In addition to his world cup horse GLOCK's Voice, GLOCK rider Edward Gal also started with his young talent GLOCK's Zonik. The beautiful eight-year-old stallion from Blue Hors Zack raised enthusiasm among spectators and judges alike. Both, in the Prix St. Georges (81.096 %) on Thursday and in the Intermediate Freestyle I on Saturday, Edward and 'Zonikie' were unanimously voted to first place by the judges, winning both times. Technical marks up to 85.5 points, and artistic marks even reaching 89.0 points, resulted in an excellent overall mark of 83.875 % in the freestyle.

On Friday, in the saddle of 14-year-old KWPN stallion GLOCK's VOICE and with a mark of 77.620 %, Eddie was able to also win the Reem Acra FEI World Cup™ Grand Prix. Hans Peter Minderhoud presented the 15-year-old Swiss chestnut gelding GLOCK's Flirt, coming third in the World Cup Grand Prix with 76.900 %. The World Cup Freestyle on Saturday served as proof of the top-notch class of participants in Amsterdam, given that the first six riders placed were within just 1.35 points. With a technical score of up to 86.50 and artistic marks of up to 89.00, Hans Peter and 'Flirty' reached a total of 82.250 %, coming fifth. Closely followed by Edward and 'Voici' in sixth place, reaching 82.100 % in the Freestyle.
<!-–TYPO3SEARCH_end–->