<!-–TYPO3SEARCH_begin-–>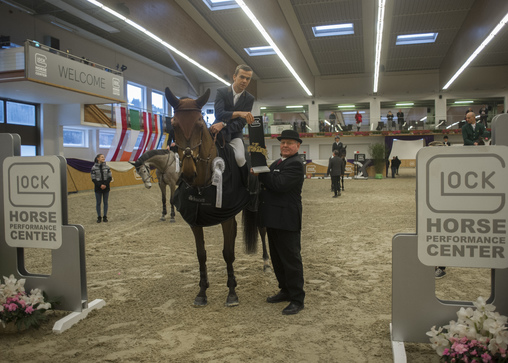 Thursday, 01 February 2018
CSI3* CSIAm-A CSIAm-B CSIYH1*
3-star opening victory for Belgium's Wilm Vermeir
No fewer than 68 participating duos entered to start in the CSI3* GLOCK's Opening Competition. Sizing up against each other for the first time were World and European Champions, Olympic medallists and international top riders in a standard jumping competition over 1.40 m. The task was to overcome 12 obstacles, including two mighty double combinations, penalty-free within a permitted time of 81 seconds, and 19 rider-horse duos did indeed master the task without faults.

Victory in the CSI3* GLOCK's Opening Competition, in the best time of 66.04 seconds, went to the current number 65 in the FEI World Ranking list, Wilm Vermeir from Belgium. In the saddle on his eleven-year-old Belgian warmblood mare Hacienda d'Eversem, he cleared all 14 jumps penalty-free and won by a margin of 92 hundredths of a second. The fact that both of them are comfortable at the GLOCK HORSE PERFORMANCE CENTER was already evident in 2016 and 2017 when they won GLOCK's Perfection Tour. "I anticipate there's more to come from Hacienda. She definitely feels good here.", affirmed Wilm Vermeir at the winner's interview.

In second place on only their first visit to the GLOCK HORSE PERFORMANCE CENTER were Kristaps Neretnieks (LAT) and the eight-year-old son of Cornet Obolensky, Cornet's Spirit (0/66.96). The fast duo from Latvia pushed Jaroslaw Skrzyczynski (POL) and ten-year-old Quitoki, son of Catoki, into third place (0/67.89).

It was also an encouragingly good opening for three Austrian riders. Twenty-three-year-old Valerie Wick (W), riding 12-year-old Gijon van den Hunsberg, achieved an outstanding tenth. European Championship rider Roland Englbrecht (OÖ) and his top-horse Chambery put on a harmonious warm-up round and came twelfth. Josefina Goess-Saurau (B), 19 years old, and SIEC Castillo, of the same age, also joined those placed with a time of 76.48 seconds and 16th place.
10 CSI3* GLOCK's Opening Competition
Int. standard jumping competition 1.40 m
1. Hacienda d'Eversem - Vermeir, Wilm (BEL) 0/66.04
2. Cornet's Spirit - Neretnieks, Kristaps (LAT) 0/66.96
3. Quitoki - Skrzyczynski, Jaroslaw (POL) 0/67.89
4. Glock's Dobelensky - Schröder, Gerco (NED) 0/68.22
5. Ambra - Moneta, Luca Maria (ITA) 0/68.79
6. Argelith Prieure - Bitter, Eva (GER) 0/69.23
7. Cassius van de Smis - Marschall, Marcel (GER) 0/71.49
8. Tina de l'Yserand - Schwizer, Pius (SUI) 0/71.83
9. Joy - Meyer-Zimmermann, Janne F. (GER) 0/72.35
10. Gijon van den Hunsberg - Wick, Valerie (AUT/W) 0/73.08
11. Reggae du Tillard - Arias, Julio (ESP) 0/73.75
12. Chambery - Englbrecht, Roland (AUT/OÖ) 0/73.92
13. Dagonett - Moyersoen, Filippo (ITA) 0/75.25
14. Cindy - Aufrecht, Pia-Luise (GER) 0/76.35
15. Clintrexo Z - Melchior, Judy (BEL) 0/76.41
16. SIEC Castillo - Goess-Saurau, Josefina (AUT/B) 0/76.48
Ergebnislink

INFOBOX
What: International Show Jumping
When: 01–04/02/2018
Where: GLOCK HORSE PERFORMANCE CENTER Austria
VIP day tickets: call +43 664 88 73 44 01
Free entry to all competitive events
www.ghpc.at

Photo enquiries to:
office@glockpress.at
<!-–TYPO3SEARCH_end–->