<!-–TYPO3SEARCH_begin-–>
News November


Sunday, 05 November 2017
Team GLOCK
Welcome GLOCK's Taminiau
He's black with a dash of white on each leg, just like his father GLOCK's Toto Jr., his grandfather Totilas and his great grandfather Gribaldi. GLOCK's...
>> read more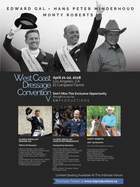 Thursday, 02 November 2017
5. West Coast Dressage Convention
Edward and Hans Peter offering clinics in Los Angeles
From April 20th till 21st 2018, the two multiple Championat winners, GLOCK Riders Edward Gal and Hans Peter Minderhoud, together with Monty Roberts, will be...
>> read more
<!-–TYPO3SEARCH_end–->