<!-–TYPO3SEARCH_begin-–>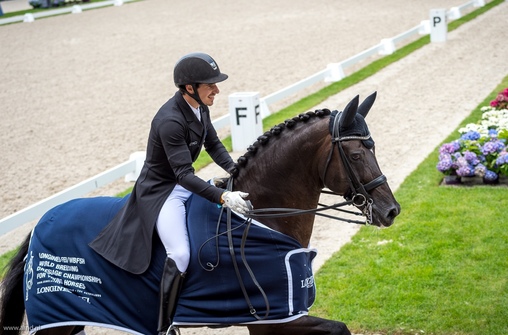 Monday, 07 August 2017
WBFSH World Breeding Dressage Championships for Young Horses
Dark President wint het "Dressage Stallions of the Year"
Jaarlijks zijn alle ogen van de dressuurwereld gericht op de vierbenige nakomelingen in de dressuursport, welke bij het WBFSH World Breeding Dressage Championships for Young Horses wordt gepresenteerd. De keuze voor een start in de klassen van vijf-, zes- en zevenjarige paarden alsook hengsten met het predicaat keur is doelgericht en overeenkomstig streng, want enkel de beste nakomelingen kunnen aan dit belangrijke evenement deelnemen. Eveneens mogen in de klasse "Dressage Stallions of the Year" uitsluitend hengsten met het predicaat keur deelnemen. Voor Team GLOCK reed de jonge Riccardo Sanavio de kwalificatie met de keur hengst Dark President (Wynton x G Ramiro Z) waarbij het duo zich aardig in de kijker wist te spelen.

Stond de negenjarige KWPN-hengst Dark President op zondag in de Prix St Georges met 71.930% nog op de tweede plaats achter de Lord Leatherdale-nakomeling "Everdale" onder de Britse Charlotte Fry. Op zondag waren in de Intermediate I Freestyle "Dressage Stallions of the Year" Dark President en Riccardo onverslaanbaar. Met in totaal 74.867% pakten de beiden de overwinning!
<!-–TYPO3SEARCH_end–->