<!-–TYPO3SEARCH_begin-–>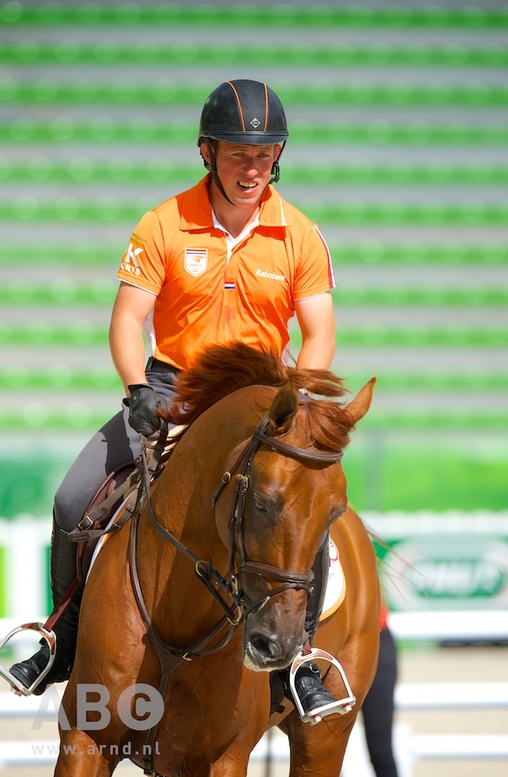 Monday, 01 September 2014
Alltech FEI World Equestrian Games™ 2014
First practice at the championship stadium, tomorrow is the kick-off!
The countdown is running, the clock is ticking. The first show-jumping event of these World Equestrian Games is approaching. Yesterday all riders were allowed briefly to enter the stadium. Still without a course, just to sniff the atmosphere. Today there is an exact schedule for the first jumping practice. Each rider, strictly subdivided into nations, is allowed to spend exactly 90 seconds in the arena. Before and after they are all given some time on the big warm-up course in order to have some deeper practice.
GLOCK's London N.O.P. stands out from the crowd. His coat shimmers with a deep gold whilst he happily canters across the course. "We'll be doing only some light practice" says Gerco to GLOCK groom Lulu, who observes them from the edge of the warm-up course. "He knows it all. I would like to go easy on him, since things will become hard enough here." He lets the 12-year-old stallion move in relaxed trot, canter some circles, then to continue walking. Everything looks ever so easy, so calm and detached. Many of the other groups of nations show the pressure and excitement they feel to be one of the riders permitted to start in these World Equestrian Games. Gerco and "London" convey the experience of so many major events and endless ease in everything they do.
Now, for the first time, GLOCK's London N.O.P. walks through the tunnel into the large stadium. Completely relaxed, he fathoms everything and, here too, Gerco canters some calm rounds. "Enough", he laughs and pads the stallion. "He feels great and tomorrow we get started."
<!-–TYPO3SEARCH_end–->