<!-–TYPO3SEARCH_begin-–>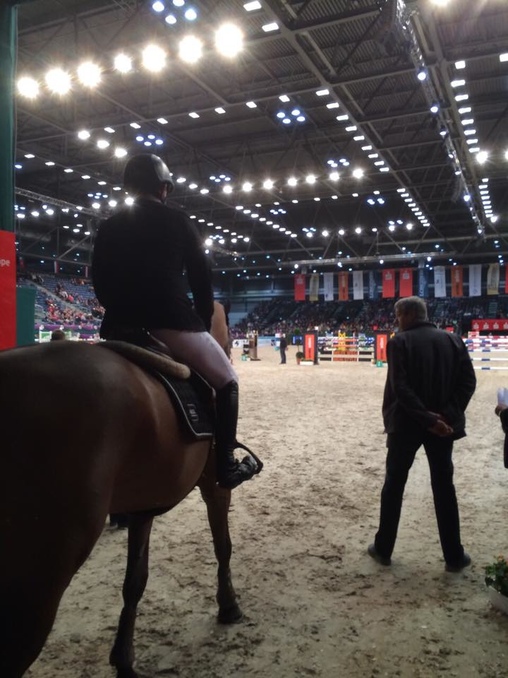 Wednesday, 21 January 2015
CSI5*-W Leipzig / Nieuw-en Sint Joosland
GLOCK Stars en route in Leipzig and the Netherlands
In Leipzig, GLOCK Rider Gerco Schroeder banked on calm rides
From January 15th till 18th, GLOCK Rider Gerco Schroeder took GLOCK's Cognac Champblanc, GLOCK's Prince de Vaux and GLOCK's Debalia along to the top-notch FEI World Cup™ show-jumping event in Leipzig (GER). With GLOCK's Prince de Vaux on Friday in the speed competition over 1.45 m, the GLOCK Rider then sped up somewhat, securing seventh place in this competition with top-class participation.

The generous indoor arena, the large audience and the exciting atmosphere made a big impression even on the most experienced horses. GLOCK Rider Gerco Schroeder therefore took it particularly easy with his four-legged protégés from the GLOCK household. In particular GLOCK's Debalia (Numero Uno x Lupicor), of only seven years, was given a lot of time on her first outing on the course by the team world champion. GLOCK's Debalia thanked him with superb jumps, proving her great potential yet again.

Hans Peter Minderhoud and Marieke van der Putten demonstrate their excellence in international events
Gaining experience and breathing some competition air were this weekend's tasks for GLOCK's Lord of Loxley and GLOCK's Federleicht. The two GLOCK dressage horses were presented in the Netherlands at national level by GLOCK Rider Hans Peter Minderhoud and GHPC Netherlands rider Marieke van der Putten.

GLOCK Rider Hans Peter Minderhoud presented the incredibly elastic Lord of Loxley (Lord Sinclair x Landadel) in Nieuw-en Sint Joosland. The elegant brown horse visibly enjoyed performing before the audience, moving almost like a dancer under his experienced rider. The reward for this successful performance was 70.40 per cent and second place.

GHPC Netherlands young talent, Marieke van der Putten, also competed in the Netherlands. She delighted both the audience and judges in Maren-Kessel with her performance in the saddle of eleven year old GLOCK's Federleicht (Fuerst Piccolo x Ferragamo), winning the test with 74.40 %.


<!-–TYPO3SEARCH_end–->