<!-–TYPO3SEARCH_begin-–>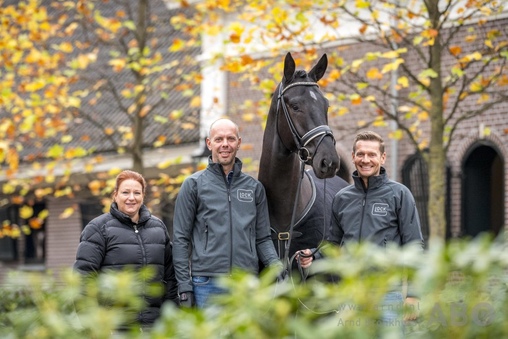 Sunday, 05 November 2017
Team GLOCK
Welcome GLOCK's Taminiau
He's black with a dash of white on each leg, just like his father GLOCK's Toto Jr., his grandfather Totilas and his great grandfather Gribaldi. GLOCK's Taminiau, bred from GLOCK's Toto Jr. - Sandro Hit – Caprilli, is the name of the new stallion at the GLOCK HORSE PERFORMANCE CENTER. He was named in honour of Jan Taminiau, who was happy to give his consent. The famous Dutch fashion designers counts Queen Maxima of The Netherlands, Queen Mathilde of Belgium, Princess Claire of Luxemburg and also stars from the world of music, including Beyoncé and Lady Gaga, among his customers.
With GLOCK's Taminiau, GLOCK's Toto Jr. (Totilas – Desperados - Rotspon) provided his first son for the traditional Hanoverian stallion licensing. Bred by J.W. Holtland (NED) from his black KWPN mare Vitamin C and first seen as a three-day-old foal by Hans Delsing (Home of Stallions, GER), GLOCK's Taminiau was purchased right on the spot. The German horse expert, brought the black stallion up with a lot of love and a close relationship with the horse.
At the Hanoverian licensing, GLOCK's Taminiau made him really proud. The elegant stallion presented himself contained with well-balanced movements and three extraordinary basic gaits. He left the licensing ground with a positive result and was additionally ennobled a premium stallion.
As number 109 he not only delighted his famous fathers' fans but also the GHPC. The two-and-a-half-year-old horse with excellent movements and extraordinary pedigree has found a new home at the GLOCK HORSE PERFORMANCE CENTER Netherlands, where he will receive sensitive and caring training.
"Three generations of beautiful stallions, all of which I had the privilege to ride, are united in GLOCK's Taminiau. He is a very special horse, I have been awed by this special horse from the very first moment", says GLOCK Rider Edward Gal happily. Under him, GLOCK's Taminiau will now be able to develop his sporting capabilities.
GLOCK's Taminiau
12/06/2015
Black
Hanoverian
Licensed, premium stallion
Pedigree: GLOCK's Toto Jr. - Sandro Hit - Caprilli
Height: 1.70 m
Breeder: J. W. Holtland, Ysselmuiden/The Netherlands
Applicant: Hans Delsing, Home of Stallions, Velen/Germany
<!-–TYPO3SEARCH_end–->