<!-–TYPO3SEARCH_begin-–>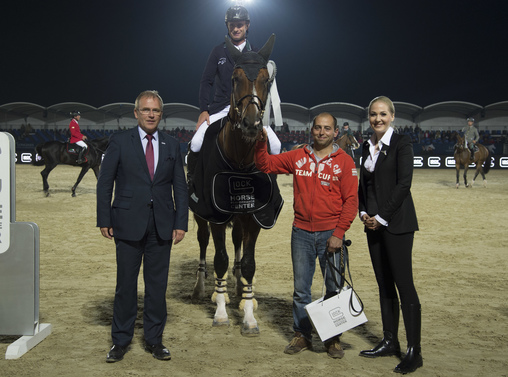 Sunday, 21 September 2014
Gaston Glock's Championat Vienna
A hundredth of suspense with an exceptional Denis Lynch (IRL)
Specially designed obstacles, flowers made in paradise, shining GLOCK logos in the arena, a new voice from the speakers' tower and new special trophies. The arena of the Vienna Masters is transformed into a completely new world for the most demanding CSI5* test on Friday. The world of GLOCK Perfection, making the Gaston Glock's Championat Vienna ever so unique. In this world ranking show jumping event, with prize money amounting to 61,000 euros, the path to victory was a tough one. It took the 47 participants over 13 obstacles with 16 jumps with a demanding height of 1.50 m.
Right at the start, the course sported the impressive GLOCK wall as the first jump, while the triple oxer double steep combination also presented a tricky source of errors in the basic course. Only nine duos made it to the final jump-off, which presented the winner with the chance of 20,130 euros and the beautiful GLOCK cup.
The final round was opened by Cameron Hanley from Ireland who, on his mare Amira, set the benchmark time of 38.80 seconds. The first female rider of the course, Jane Richard Philips (SUI) on Zekina Z, was able to undercut this with an even faster 38.50 seconds. With Hans-Dieter Dreher, Ludger Beerbaum and Marcus Ehning, Germany provided three jump-off riders. 'Hansi Dreher' opening for the German team: change of leadership with 36.39 seconds on the powerful stallion Embassy II.
So with this benchmark set, none of the remaining participants would have it easy, with rather strong nerves and a lot of speed being required. However, someone who in today's CSI5* Granitbau Opening had already been able to demonstrate his form, was able to underline it again in the jump-off course of Gaston Glock's Championat Vienna. Aachen winner Denis Lynch (IRL) laid out his round on Argentinus sun All Star 5 perfectly, always going for the first distance and thus deservedly securing his victory. The second place went to Hans-Dieter Dreher (GER) who, as a Rolex One To Watch candidate 2011, has pursued an extremely impressive career.
Multiple Olympic winner and world champion Ludger Beerbaum (GER) went into the jump-off in his Dutch warm-blood Chaman, achieving a clear third place on this 15-year-old stallion with 36.56 seconds.
Unfortunately the Austrian riders had a bit of bad luck, with rail-downs in the basic course preventing them from entering the jump-off. The best Austrian result was once again delivered by world champion of 2014, Astrid Kneifel (OÖ), with Royal des Bissons ranking 15th (4/83.07).
02 CSI5* Gaston Glock's Championat Vienna
Int. JUmping competition with jump off (1.50 m)
Valid for the LONGINES RANKINGS
1. All Star 5 - Lynch Denis (IRL) 0 35.90
2. Embassy II - Dreher Hans-Dieter (GER) 0 36.39
3. Chaman - Beerbaum Ludger (GER) 0 36.56
4. Zekina Z - Richard Philips Jane (SUI) 0 38.50
5. Amira - Hanley Cameron (IRL) 0 38.80
6. Ringwood Glen - Kelly Capt. Michael (IRL) 0 40.79
7. Plot Blue - Ehning Marcus (GER) 4 36.42
8. Camilo LS La Silla - Michan Halbinger Alberto (MEX) 4 37.63
9. Andrea - Alsharbatly Abdullah (KSA) 4 37.91
10.Cocoshynsky - Gaudiano Emanuele (ITA) 4 39.78
11.Clarimo Ask - Bengtsson Rolf-Göran (SWE) 1 85.14
12.Badarco - Stangel Marian (SVK) 1 86.35
Results
<!-–TYPO3SEARCH_end–->