<!-–TYPO3SEARCH_begin-–>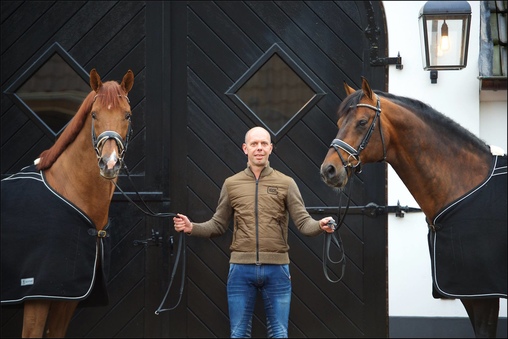 Monday, 29 February 2016
KWPN selection / Subtop Hulten
Successful breeders' weekend for Team GLOCK
For thousands of breeders from all over the world, from February 3rd till the 6th 2016 there was but one destination: the KWPN Stallion Show in 's-Hertogenbosch (NED). Every year, this event in the Brabanthallen represents one of the highlights in the international breeders' calendar, and the GLOCK HORSE PERFORMANCE CENTER Netherlands team was there too. This year there were several reasons for "Den Bosch": presentation of the new GLOCK stallion catalogue with all the information about those highly sought-after breeding stallions GLOCK's Flavio Briatore, GLOCK's Johnson TN N.O.P., GLOCK's Toto Jr., GLOCK's Trafalgar, GLOCK's Zonik, GLOCK's Tango and GLOCK's Romanov, acceptance of distinctions and GLOCK's Toto Jr. proved himself in the Final of the Isah Stallion Competition.

'Keur' predicate for GLOCK's Johnson TN N.O.P. and Exquis Vivaldi
A great honour in the breeding world was conferred on those two impressive stallions, GLOCK's Johnson TN N.O.P. (Jazz x Flemmingh) and Exquis Vivaldi (Krack C x Jazz). Trained by GLOCK rider Hans Peter Minderhoud, these top KWPN sires received the sought-after 'keur' predicate during the KWPN selection event. This special title goes exclusively to licensed stallions whose first crop of offspring are at least seven years old and distinguished by special characteristics. The offspring of 'keur' stallions must stand out not only in appearance but also in terms of their sporting characteristics. "Johnson and Vivaldi came to me at age three and of course I'm very proud that both are getting the 'keur' predicate for their stud performance", said GLOCK rider Hans Peter Minderhoud.

Standing ovations for the 'golden team' and Wim Ernes
For their team gold medal at the FEI European Championships in Aachen in August 2015, the two GLOCK riders Hans Peter Minderhoud and Edward Gal, along with their team colleague Patrick van der Meer, were all honoured. Unfortunately the fourth 'golden boy' in the team, Diederik van Silfhout, had to decline due to illness. But the medal gained soon became incidental and emotions came to the fore as, alongside the riders, the national coach Wim Ernes was also honoured. Popular with one and all, this trainer entered hospital shortly before Christmas with a suspected brain tumour, since sadly confirmed. Wim, accompanied by his wife, appeared in public for the first time since then at 's-Hertogenbosch and received standing ovations for minutes. 'His' riders were moved to tears, with Edward and Hans Peter having to wipe away a tear more than once.

GLOCK's Toto Jr. is the ISAH Stallion Champion 2015/16
In his age class and in the context of the ISAH Stallion Competition, he was unbeatable all season, delighting judges, spectators and experts in equal measure. Now five years old, GLOCK's Toto Jr., son of Totilas and ridden by GHPC trainer-rider Marieke van der Putten took victory by a large margin in the final for dressage horses in class L, and received a score of 91 points from the jury. In the overall rating this took 'Toto' to 361 points, giving him a 26 point advantage over Governor in second place.

First Inter II victory for GHPC trainer-rider Marieke and GLOCK's Federleicht
Outside the KWPN Stallion Show there were other successes to celebrate too. Following her victory with GLOCK's Toto Jr. in the stallion competition, GHPC trainer-rider Marieke van der Putten headed for a national tournament in Hulten. With the twelve-year-old westphalian mare, GLOCK's Federleicht, she started second in the intermediate, taking their first victory together in this class with 73.16 %.
<!-–TYPO3SEARCH_end–->