<!-–TYPO3SEARCH_begin-–>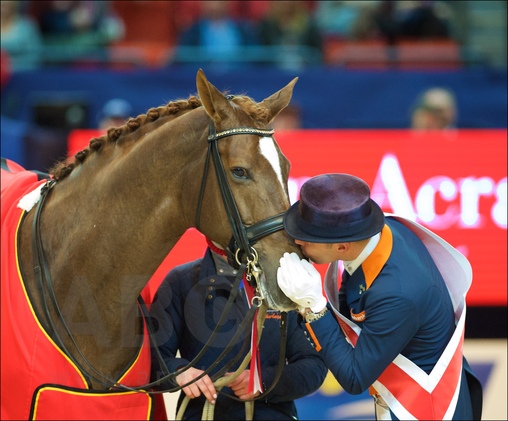 Sunday, 27 March 2016
Reem Acra FEI World Cup™ Dressage Final 2016
A dream has come true - Hans Peter and GLOCK's Flirt are World Cup winners!
So many emotions today and, in the end, such a fantastic success to be celebrated. Forgotten are the turmoil before the final freestyle, the beating heart on entering the course and the wait to know whether the score of 82.357 % will be that of the winner. Today Hans Peter Minderhoud achieved what he had been dreaming of since he was little boy: just the once to be the winner on the podium of Dressage World Cup.
A very focused warming up of GLOCK's Flirt, following instructions from GLOCK Trainer Nicole Werner. The entire time is there, observing every movement of the 15-year-old gelding, today again the very personification of inner poise. At precisely 4pm, Hans Peter and 'Flirty' enter the almost completely sold-out Scandinavium as the 16th duo to start, and they summon up their performance en point. Each movement of their musical freestyle is smooth, each flying change clean, piaffes and passages in clear pace. They take the extended canters full of verve, spacious movements and perfect extension. The double and simple lead changes seem almost easy and, when Hans Peter and GLOCK's Flirt perform their perfect last stop, the cheering is endless. Thundering applause accompanies the GLOCK duo out of the Scandinavium and now it's all about waiting. The highest score of 82.357 % appears. This means the lead! But nothing is decided yet, because Anna Kasparzak (DEN) comes next and, after her, a strong performance is expected from likeable Swedish rider Patrik Kittel.

Hans Peter joins 'Flirty' in the stall. "We're friends with Patrik. I respect him very much and don't want to watch and yield to any hope that he might make a mistake. From my heart I wish him a great freestyle. So I'd rather wait with my horse and then find out." What might seem so composed is indeed reflected differently in the way Hans Peter behaves. One senses his intense excitement, his emotions at being so incredibly close to the goal of his dreams. "Flirty is quite simply a dream. He's such a wonderful horse, with such a fantastic character, and I get the feeling he gives his all for me. I feel blessed with the privilege of riding him" said an evidently moved Hans Peter as he patted the shimmering chestnut gelding on the neck.

Suddenly the sound of rapid footsteps; some people shout "Hans Peter! You've done it! You're World Cup winner!" Whether Hans Peter is actually laughing or crying is impossible to tell at this very moment. Edward, Nicole, Anna – all laughing and embracing. Flirty gets hugs and kisses and all the other riders and trainers surround Hans Peter and Flirty to offer congratulations.
Now the sash is draped over Hans Peter, whilst GLOCK's Flirt receives the splendid red Reem Acra blanket and it's already time for the emotional award ceremony. All present at the Scandinavium go wild, the spectators celebrating their World Cup winners: Hans Peter Minderhoud and GLOCK's Flirt!
Reem Acra FEI World Cup™ Dressage Final
D2 Int. dressage competition – Grand Prix Freestyle
1. GLOCK's Flirt – Minderhoud Hans Peter (NED) 82,357 %
2. Don Auriello – Vilhelmson Silfvén Tinne (SWE) 81,429 %
3. Unee BB – von Bredow-Werndl Jessica (GER) 80,464 %
Ergebnislink
www.gothenburghorseshow.com | www.facebook.com/GothenburgHorseShow
<!-–TYPO3SEARCH_end–->