<!-–TYPO3SEARCH_begin-–>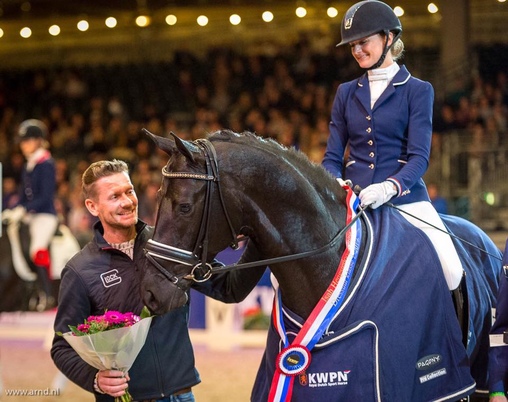 Tuesday, 07 February 2017
KWPN Stallion Show (NED) & CSI3* GHPC
Team GLOCK stallions convincing on all fronts
Two large events were packed onto the Team GLOCK schedule for the first weekend of February 2017. One involved GHPC Netherlands trainer-rider Marieke van der Putten presenting three young GLOCK stallions at the KWPN Stallion Show in 's-Hertogenbosch (NED). The other saw GLOCK Rider Gerco Schröder and his brother Ben attending the Season Opening at the GLOCK HORSE PERFORMANCE CENTER Austria, again approaching the start with GLOCK horses.

Two victories for GLOCK's young stallions
In line with tradition at the KWPN Stallion Show in 's-Hertogenbosch, there were opportunities to admire not only well-known sires and candidates for license but also promising young horses in the Isah Stallion Competition. After several initial rounds, it was time for the grand finale in Den Bosch. Marieke van der Putten had travelled there with GLOCK's Toto Jr, GLOCK's Trafalgar and GLOCK's Gironn and returned home more than satisfied.

In class L for five-year-old horses, GLOCK's Trafalgar was unbeatable. Following a rock-solid performance in the finale, this black stallion, bred from Totilas x Lord Loxley, reached a total of 337 points, thereby winning the overall result for five-year-olds.

The six-year-old stallions came up against each other in class M and victory went once again to team GLOCK. Wonderful GLOCK's Toto Jr (Totilas x Desperados) danced to the top of the overall result with 351 points. GLOCK's Gironn (Uphill x Ferro) followed up in eighth place with 306 points.

Four top results at the GHPC Austria
GLOCK Rider Gerco Schröder (NED) and his brother Ben travelled to Austria at the same time in order to compete in the CSI3* International Show Jumping at the GHPC Austria. In the saddle on ten-year-old KWPN gelding GLOCK's Champions Ludwig, Ben Schröder took a fourth, an eighth and a twelfth place in the GLOCK's Perfection Tours (1.40 /1.45 m). Gerco and GLOCK's Lausejunge (v. Ludwigs As) scored points in the GLOCK's 3* Grand Prix On Sunday when, following a top performance in the basic round, they rode an exciting jump-off to finish in tenth place.
<!-–TYPO3SEARCH_end–->