<!-–TYPO3SEARCH_begin-–>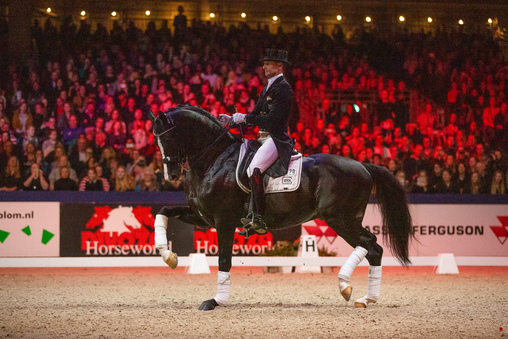 Saturday, 02 February 2019
KWPN Stallion Show 2019
A thank you, standing ovations and plenty of emotion
The KWPN Stallion Show is the breeding highlight in the Netherlands. Every year on the first weekend of February, countless horse-lovers make the pilgrimage to the Brabanthallen venue for the chance to see the best horses from Dutch warmblood breeding. The highlight is the stallion gala, where the best stallions are shown.

Thank you GLOCK's Johnson TN
There was plenty of emotion at the "thank you" expressed for GLOCK's Johnson TN. This premium stallion, so successful in sport and breeding, can now, at the age of 17, take things a bit easier and, from now on, will only be presented by GLOCK Rider Hans Peter Minderhoud at selected venues. Not only was "Johnny" acknowledged by spectators with standing ovations; there was applause lasting many minutes for his rider Hans Peter and groom Anna.

Highly successful in sport and breeding
GLOCK's Johnson TN has proven in sports and breeding that he belongs to the world's best. He won the 2005 KWPN Stallion Show and was finalist in the
2007 World Dressage Championships for Young Horses. He was a major contributor to Dutch team gold at the 2015 European Championships in Aachen and won an individual bronze medal. At the Olympic Games in Rio de Janeiro 2016, GLOCK's Johnson TN and Hans Peter Minderhoud finished as the top-ranked Dutch combination. Therefore, GLOCK's Johnson TN proved once again that he is a crucial component of the Dutch team. Besides his dressage pedigree, he shows perfect conformation combined with a balanced character and a positive attitude. GLOCK's Johnson TN has already produced outstanding progeny, first and foremost the approved sons Bretton Woods, Breezer and Firestone. More than 30 of his progeny have already been presented at international Grand Prix level. There were three gold medals straight away for his son Greenpoint's Cupido at the 2018 Junior Dressage European Championships. At the Pavo Cup for six-year-old dressage horses, Hartsuijker (gelding son of GLOCK's Johnson TN) took second place in the Final. Ben Johnson, ridden by Marlies van Baalen, was yet another outstanding son of GLOCK's Johnson TN to be taken into the Dutch B-squad. His offspring are already competing at Grand Prix level. His renowned sire Jazz was successful up to Grand Prix level. Damsire Flemmingh has earned a great reputation for breeding, having produced van Grunsven's Krack C and Edward Gal's famous stallion Lingh, to name but a few. GLOCK's Johnson TN goes back to the famous NL-merrielijn 8, also known as the Reina line. It ranks among the most important bloodlines in the Netherlands, including such world-famous horses as Darkdream, Sultan, Mendel, Charmeur and Waldo in its pedigree.

Black Magic - a highly emotional reunion with Totilas
Three wonderful Totilas sons opened the programme item "Black Magic", marking the return at last to the Brabanthallen of this exceptional stallion, GLOCK Rider Edward Gal's gift to the world of a dressage wonder. GLOCK Rider Hans Peter Minderhoud presented eight-year-old GLOCK's Toto Jr. (Totilas x Desperados FRH), whilst Edward Gal presented seven-year-old Totilas son GLOCK's Total US, a top-class and talented mover. Both of these outstanding, licensed stallions received storms of enthusiasm and, as the now 19-year-old Totilas entered the hall led by Matthias Alexander Rath, many were moved to tears. More flowed immediately after behind the scenes, as Edward, Nicole, Hans Peter and his former groom of many years, Vanessa, greeted the stallion. A magical evening.
<!-–TYPO3SEARCH_end–->