<!-–TYPO3SEARCH_begin-–>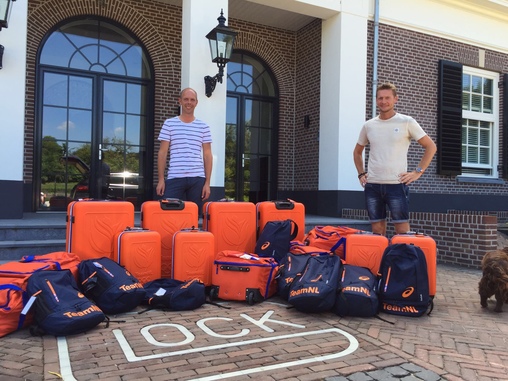 Sunday, 07 August 2016
Olympic Games Rio 2016
Arrived safely, fit one and all
Months of preparation, an enormous administrative effort, perfectly coordinated management to get the horses trained to top form and finally the moment has come. The Olympic Games in Rio de Janeiro (BRA) commence.
For Edward, Hans Peter, Nicole and the two grooms, Vanessa and Anna, the Rio adventure doesn't just kick off this week. Everything precisely planned; then comes the day of departure. On August 1st, Vanessa sets off for the airport in Liège with Voice and Johnson, which is where the best dressage horses in the world embark on their journey to Rio. The horses will be flown across the Atlantic in a purpose-built Boeing SkyCargo 777-F. "Voici" and "Johnny" are well and truly accustomed to travelling together. They're sharing one of the mobile flight stalls and are accompanied throughout the flight by Vanessa. In parallel, all of the other team members make their way to Rio.
Twelve hours later: touchdown in Rio de Janeiro. For the horses and attendants, it's a swift transfer from the aircraft to the horse transporters already waiting outside. The next destination is the Deodoro Military Complex, where the Olympic equestrian events will be conducted. Voice and Johnson are familiar with the procedure and, following their arrival at the Olympic horse accommodation, they enjoy a walk to loosen up their muscles, stalls strewn with a thick layer of bedding, fresh water and their specially mixed mash. A few minutes later the familiar sound of contented chewing emerges from the stalls. Thank goodness their hay tastes great on the other side of the world too.
Straight away the following morning, Hans Peter and Edward go for a walk with Voice and Johnson. Both are brimming with energy, demonstrated by some vigorous leaps. Wednesday sees all the dressage riders entering the large stadium for the first time. How do the horses deal with the unfamiliar atmosphere and new distractions? Well actually both feel just fine. The training helps to loosen up muscles and it's only today that the training gets a bit more intensive.
The vet check isn't scheduled till Monday (08/08). Then there's another rest day before the Grand Prix begins on Wednesday (10/08) and Thursday (11/08). This counts for individual and team scores. The Grand Prix Special on Friday (12/08) brings the first awards of team medals and the best 30 individual riders vie for entry in the ultimate grand final for the top 18 – the freestyle to music on Monday (15/08). "We arrived especially early to give the horses time to adjust" comments Hans Peter as he pats Johnson's mighty neck. While the stallion lies down in his thick bed of sawdust and enjoys a soothing sleep, Hans Peter smiles. "They're already feeling at ease. That's important."
The Olympic Dressage Programme
Monday, 08/08/2016
from 3:45pm Rio time (8:45pm CET
Vet check
Wednesday, 10/08/2016
from 10:00am (3:00pm)
Grand Prix (1st stage of team & individual competition)
Thursday, 11/08/2016
from 10:00am (3:00pm)
Grand Prix (1st stage team & individual)
Friday, 12/08/2016
from 10:00am (3:00pm)
Grand Prix Special (team final & 2nd stage individual)
Monday, 15/08/2016
from 10:00am (3:00pm)
Grand Prix Freestyle (individual final)
<!-–TYPO3SEARCH_end–->