<!-–TYPO3SEARCH_begin-–>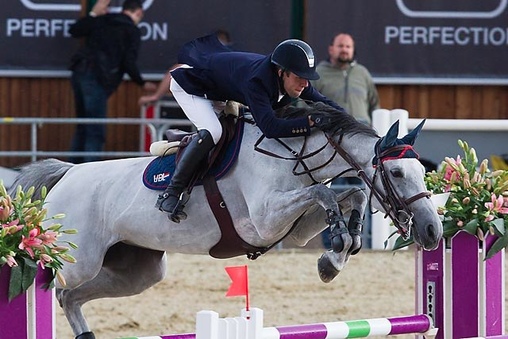 Thursday, 04 July 2013
CSI4*
Dutch on top: Maikel van der Vleuten wins for the Netherlands!
European Champion Maikel van der Vleuten has many medals under his belt. The current number 36 in the world has won gold, silver and bronze at European Championships and took silver with the Dutch team at the 2012 London Olympics. Today the 25-year-old Dutchman again showed his class in the opening jumping for the Four Star Tour. Aboard his nine-year-old mare VDL Groep Eureka, he was 61st of 76 competitors in the arena and together they pulled off a flawless round. The clock stopped at 66.09 seconds: best time and an outstanding win in a starting field full of big names! "It's my first time here in Villach and I'm so impressed. And then when the round goes exactly as I wanted it to, it's just incredible," said the young Dutchman looking very happy at the winner's interview.
Second place went to Great Britain and the famous Whitaker dynasty with Robert Whitaker on the KWPN gelding U B One (0/67.01), while World Champion and double runner-up European Champion Reynald Angot (FRA) claimed third with his 10-year-old Hanoverian mare Parenthese Tame (0/68.20).
Two Austrian also produced excellent rounds for top placings: Carinthia's local hero, GLOCK rider Robert Puck, on GLOCK's Zaranza jumped really well to take sixth and Tyrol's Julia Kayser showed an equally impressive Sterrerhofs Cayetano Z finishing eleventh.
01 Opening jumping
CSI4* | International jump class scored on penalties and time (1.45 m)
1. VDL Groep Eureka - Vleuten Maikel van der (NED) 0 66.09
2. U B One - Whitaker Robert (GBR) 0 67.01
3. Parenthese Tame - Angot Reynald (FRA) 0 68.20
4. Corona 93 - Duffy Alex (IRL) 0 69.31
5. Zoldoer - Govoni Gianni (ITA) 0 69.40
6. Glock's Zaranza - Puck Robert (AUT/Carinthia) 0 71.23
7. Casallora - Nieberg Lars (GER) 0 71.65
7. Ullrichequine's Candy Man - Augustsson Angelica (SWE) 0 71.65
9. Urleven van de Helle - Mallat Maiju (FIN) 0 71.96
10. Molly Malone V - Allen Bertram (IRL) 0 73.98
11. Sterrehof's Cayetano Z - Kayser Julia (AUT/Tyrol) 0 74.53
12. Catwalk IV - Whitaker Robert (GBR) 0 74.95
13. Bernadien van Westuur - Terceira Jillian (BER) 0 75.87
14. Acajou - Kühner Max (GER) 0 76.53
15. Domingo - Deusser Daniel (GER) 0 77.15
16. Fyloe vh Claeyssenhof - Deusser Daniel (GER) 0 77.92
17. S.I.E.C. Livello - Augustsson Angelica (SWE) 0 78.12
18. Philadelphia - Vorsselmans Annelies (BEL) 0 78.15
19. Uraquay - Johannpeter Karina (BRA) 1 79.36
Results link
<!-–TYPO3SEARCH_end–->