<!-–TYPO3SEARCH_begin-–>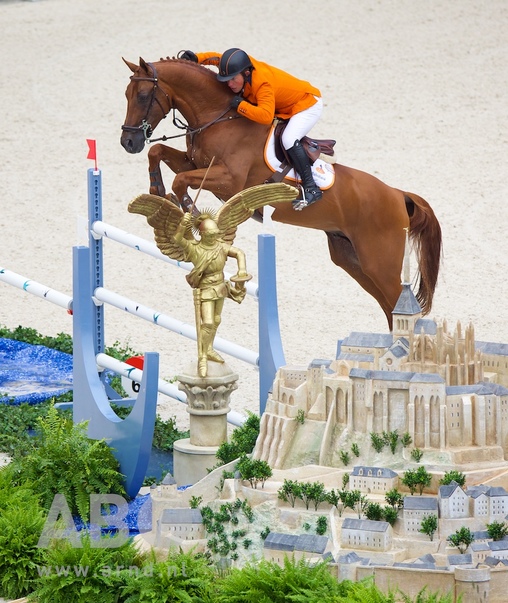 Tuesday, 02 September 2014
Alltech FEI World Equestrian Games™ 2014
Error-free! A fantastic kick-off to the World Equestrian Games
Finally today things will kick-off, so there's a lot of activity very early in the morning already. Temperatures are rather fresh here in the mornings in Normandy, but GLOCK's London N.O.P. has been nicely covered up for the night. He comfortably still dozes, enjoying the presence of GLOCK groom Lulu. There is always time for a snuggle between cleaning, bridling and saddling. "London" blows into her hair and starts nibbling her jacket. He does this really gently, with not a single millimetre too much fabric ending up between his teeth. Then he is all ears. Gerco is coming back to the stables having watched the first riders, kept his fingers crossed for his team mates and now wanting to have a quick ride on London. Walk, trot, canter and then trot again is the practice on the warm-up grounds leading to the roofed course on which everybody, one after the other, gets ready for this first test in the championships. Some riders share a joke and many accompanying people grab their mobile phones to take a shot of "London".
It's 5 pm, and now is the moment. Gerco enters the course. The speaker announces the silver-winning duo of London and the stadium greets them enthusiastically. Breathless suspense as Gerco starts. Some of the top-candidates did not have such successful rides today. How will things go for Gerco and "London"?
The stallion jumps fantastically and Gerco has really clearly thought his line through. Tight turns save time but the ride is calm at all times. Then a moment of shock. Just before the mighty water ditch Gerco loses a stirrup. But no hesitation. GLOCK's London N.O.P. jumps off powerfully and lands without any errors, continuing like this until the finish. Great applause and Gerco's face shows a happy smile. "He jumped fantastically!" Everybody pads the stallion's shoulder and shouts congratulations. After the first test he ranks eleventh with 79.60 points. The Dutch team is happy and journalists are keen to interview him. Patiently Gerco answers one question after the other. Meanwhile, at the stables, Lulu looks after her "London". "I almost died of excitement!" she smiles. The first day is done!
<!-–TYPO3SEARCH_end–->