<!-–TYPO3SEARCH_begin-–>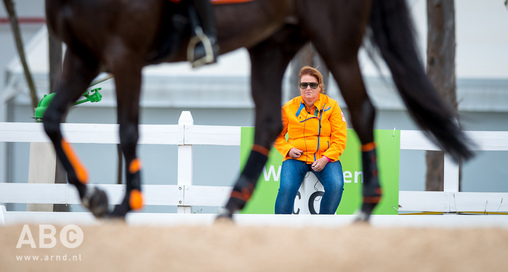 Saturday, 13 August 2016
Olympic Games Rio de Janeiro
Fourth place for the team - Hans Peter in the final
"Riding to risk" was the motto that team coach Johan Rockx laid down for his team today. With Edward, Hans Peter and Diederik, but following the loss of Adelinde, the Dutch only had three riders left in the team, with no option to discount the worst result. All three count towards the dressage team score in these Olympic Games, in which the team holds fourth place, with the ranking to be decided today in the Grand Prix Special.
As the first in his team, Edward enters the test with Voice, the latter appearing charged with energy, executing a piaffe on entry and maintaining vigour for the entire test. Edward and Voice get 73.665% for their Grand Prix Special. "We decided to ride to risk. But that also means that the fault rate can be higher. Unfortunately a few of the faults came expensive today, so it's all the more regrettable that we don't have a fourth rider. Now I'll have my fingers crossed for Diederik and Hans Peter, and we simply have to see what happens." A short time later, there's Edward egging on Diederik and Arlando as they start. There's an eruption of cheering as this duo completes the test with 76.092%. Now it's time to wait and see what the other countries come up with and, above all, to see how Hans Peter and Johnson get on.
It's quite fresh today and a slight drizzle descends from the Brazilian sky. The atmosphere is tense. Only another three horses and it's Hans Peter's turn. Today Johnson has a lot more energy, delivering glorious extended canter and trot performances, solid pirouettes and beautiful passages. The score of 75.224% is slightly disappointing for Hans Peter. "I felt much better than yesterday and yet am two percentage points below yesterday's score. From my view-point from the horse, I reckoned differently. The new starting order is a challenge for us. We have to start right at the beginning and there re only three of us. But we took the clear decision to risk something today and we did what we could. The concluding competition will be tough, for the individual placings too, as to whether we'll make it to the Grand Prix Freestyle." Even though Hans Peter, just like Edward before, gives open and outgoing interviews, it is clear that there's a feeling of disappointment. The team gets fourth place, but Hans Peter got into the freestyle finale of the eighteen best riders.
Tomorrow is a rest day for horses and riders until the grand final of these Olympic Games on Monday (15/08) from 10:00 am.

The Olympic Dressage Programme
Monday, 08/08/2016
from 3:45pm Rio time (8:45pm CET
Vet check
Wednesday, 10/08/2016
from 10:00am (3:00pm)
Grand Prix (1st stage of team & individual competition)
Thursday, 11/08/2016
from 10:00am (3:00pm)
Grand Prix (1st stage team & individual)
Friday, 12/08/2016
from 10:00am (3:00pm)
Grand Prix Special (team final & 2nd stage individual)
Monday, 15/08/2016
from 10:00am (3:00pm)
Grand Prix Freestyle (individual final)
<!-–TYPO3SEARCH_end–->