<!-–TYPO3SEARCH_begin-–>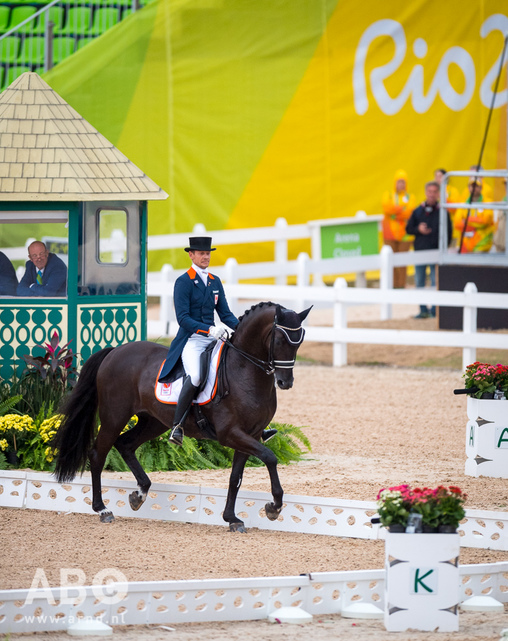 Thursday, 11 August 2016
Olympic Games Rio 2016
Good start for Edward and Voice
It's only the second big championship for Voice at these, the Olympic Games, actually his first. As penultimate starters the duo entered the Olympic Grand Prix, to be decided over two successive days. Tomorrow Hans Peter and Johnson take their turn.
Just shortly beforehand, first starter Adelinde Cornelissen had to drop out. Her Parzival was no longer fit as a result of an insect bite. The 'Oranjes' are now reduced to a trio and have to ride on the safe side. Losing even just one of the remaining riders would mean the whole team dropping out, given the requirement for at least three scores for the ultimate team result.
Vanessa put a real shine on the 14-year-old KWPN stallion. His mane is precisely plaited, the coat glossy, the hooves shine. Edward, deep in concentration, not a single sideways glance as they enter. One more time around the outside of the arena, then the duo really have to contest the Olympic Games. Initially Voice's tension is tangible. Edward rides clearly aiming on the safe side and seeks to convey a secure feeling to the stallion. One fault on the piaffe costs double points, whilst the transitions and passages are scored highly. At the end of the final performance, Voice exits the arena on a long rein. Satisfied, Edward pats Voice on the neck. The judges award 75.271% for this Grand Prix.
The press are waiting for Edward. They all want to know how he feels following Adelinde's exit and regarding his performance. "I reckon he did fine" was his comment after the ride. "Voice really gets distracted by the disturbances you keep hearing, even when you're entering the arena. But that's something that everyone here has to deal with. It's clear that I rode on the safe side today and didn't take any risks. There were indeed a few faults, but I'm really proud of Voice, given the level of concentration he achieved."
So now back to the stables for Voice, Johnson and the team. Now the focus is on Hans Peter. Tomorrow he must give his all.
The Olympic Dressage Programme
Monday, 08/08/2016
from 3:45pm Rio time (8:45pm CET
Vet check
Wednesday, 10/08/2016
from 10:00am (3:00pm)
Grand Prix (1st stage of team & individual competition)
Thursday, 11/08/2016
from 10:00am (3:00pm)
Grand Prix (1st stage team & individual)
Friday, 12/08/2016
from 10:00am (3:00pm)
Grand Prix Special (team final & 2nd stage individual)
Monday, 15/08/2016
from 10:00am (3:00pm)
Grand Prix Freestyle (individual final)
<!-–TYPO3SEARCH_end–->