<!-–TYPO3SEARCH_begin-–>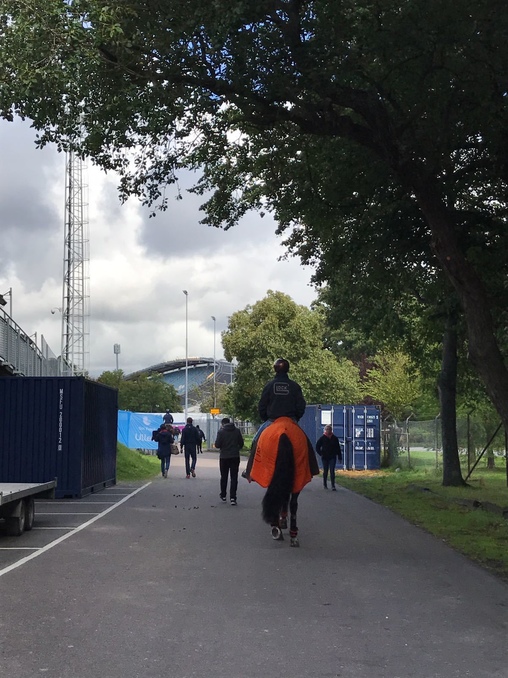 Sunday, 20 August 2017
European Championships Gothenburg 2017
Hello Sweden! 'Voici' is fit to compete
At the championships, once all the riders and horses are turned out in their national colours, it's time for the vet check. The order they're dealt with is determined by the first letters of the nations' names so, today once again, the Netherlands' turn comes in the last third.

In the stables you can sense the good mood among the team, with jokes and laughter. 'Voici' looks like he's been varnished, his hooves shine and he nuzzles up to Vanessa as she puts on his bridle. Edward looks like a model in his suit and it's already time to go. Trot along a straight section, with a host of photographers waiting at the end, the clicking of their cameras interrupting the tense quiet. Then turn round by the photographers and trot back. "Accepted" sounds out over the loudspeakers, so GLOCK's Voice is now officially "fit to compete".

After a group photo all in orange, GLOCK's Voice is saddled and Edward lets him do some light exercise under Nicole's vigilant eyes. 'Voici' is in good shape, very energetic, performing all tasks relaxed and focused.
"Enough for today" says Edward, patting his neck. Now off to the stables to join the other horses. There will be food, hay, water and lots of stroking. Scheduled for tomorrow morning, first thing, is official training. The Netherlands' turn is at 08:45am.
Web: gothenburg2017.com
<!-–TYPO3SEARCH_end–->