<!-–TYPO3SEARCH_begin-–>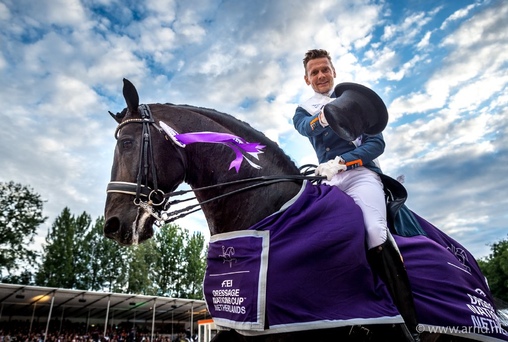 Monday, 25 June 2018
CDIO5* NC Rotterdam (NED)
Nations-Cup victory and great success for Edward and Hans-Peter
The weekend at CHIO Rotterdam (NED) could not have been better for Team GLOCK. Four contests and four wins made Edward the most celebrated superstar of this weekend of equestrian sports and, as the cherry on the cake, the Dutch team also won the Dressage Nations Cup.

GLOCK's Zonic N.O.P, under Edward Gal, gave a simply magnificent performance on this, his Nations Cup debut. The just ten-year-old son of Zack shone in the arena and there is still a lot of potential left. Both in the CDIO5* Grand Prix (76.957%) and in the CDIO5* Grand Prix free-style (78.675%), Edward Gal and GLOCK's Zonik N.O.P. were outstanding and contributed significantly to the success of the Dutch team.

Meanwhile GLOCK Rider Hans Peter Minderhoud and similarly ten-year-old GLOCK's Dream Boy, son of Vivaldi, achieved two excellent results with 73.000% and eighth place in the Grand Prix and 73.830% and second place in the Grand Prix Special. Together with their team colleagues Emmelie Scholtens and Madeleine Witte-Vrees, the two GLOCK riders were able to contribute to a highly celebrated Dutch victory in the Dutch Nations Cup in Rotterdam.

GLOCK Rider Edward Gal and the experienced black horse GLOCK's Voice (De Niro 6 x Rohdiamant) achieved 74.261% in the CDI3* Grand Prix. This meant victory and so once more the sound of the Dutch anthem for the GLOCK Rider. GLOCK's Zanardi and Hans-Peter achieved fourth place in this competition with a result of 72.239%. In the CDI3* Freestyle, Edward won with GLOCK's Voice and 78.675 %, Hans Peter and Zanardi came tenth.

Coming eighth in the CDI3* Grand Prix (70.304%) and third (70.426%) in the CDI3* Grand Prix Special also meant an extremely successful weekend in Rotterdam for GLOCK horse rider-trainer Riccardo Sanavio and 14-year-old Westphalian mare GLOCK's Federleicht.
<!-–TYPO3SEARCH_end–->