<!-–TYPO3SEARCH_begin-–>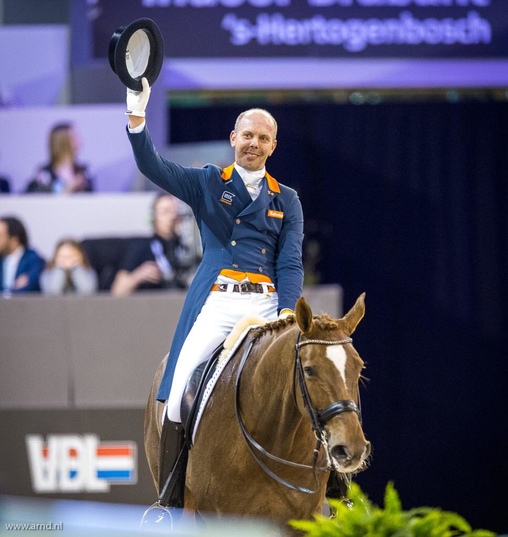 Tuesday, 14 March 2017
Indoor Brabant (NED)
Standing ovations for Hans Peter and GLOCK's Flirt
The GLOCK Dressage Team, comprising the two GLOCK Riders, Hans Peter Minderhoud and Edward Gal (NED), along with GLOCK Trainer Nicole Werner, had plenty of cause to celebrate at the World Cup Dressage tournament in 's-Hertogenbosch (NED). Because the appearances by Hans Peter with GLOCK's Flirt and Edward with GLOCK's Voice at this, the last World Cup stage before the grand final in Omaha (USA, March 29th till April 2nd 2017) were simply superb. There were standing ovations for the new freestyle "Are you flirting with me" by Hans Peter and "Flirty".

Before Hans Peter, and the 16-year-old chestnut bred from Florestan I, presented it to the audience, they had to put in a convincing performance in the FEI World Cup™ Dressage Grand Prix. With 77.02 percent, the defending champions in the overall World Cup secured second place. Edward and GLOCK's Voice (from De Niro) came eighth with 71.240 %. Then, on Saturday, it was time. Within Team GLOCK there was a tangible sense of joyful anticipation. How would spectators react to the new freestyle routine, tailor-made for GLOCK's Flirt? How would it be rated by the international jury? After the performance by Hans Peter and "Flirty" it was clear: it couldn't have been crafted any better! Joost Peters, who had already composed many freestyles for GLOCK Riders, had once again delivered a musical masterpiece, perfectly underlining GLOCK's Flirt's movements. An incredible 84.890 % lit up on the display immediately following the ride. That meant victory in the World Cup freestyle and a new record freestyle score for the GLOCK dream team.

The choreography earned marks between 8.5 and 9.5, music between 9 and 9.5, level of difficulty was rated between 9.7 and 9.9. So with "Are you flirting with me", Hans Peter Minderhoud and GLOCK's Flirt have excellent prospects for successful defence of their title in Omaha. Edward and GLOCK's Voice also improved their position in the freestyle, taking fourth place with 78.520 % and thus also securing their entry for the World Cup final in Omaha.
<!-–TYPO3SEARCH_end–->