<!-–TYPO3SEARCH_begin-–>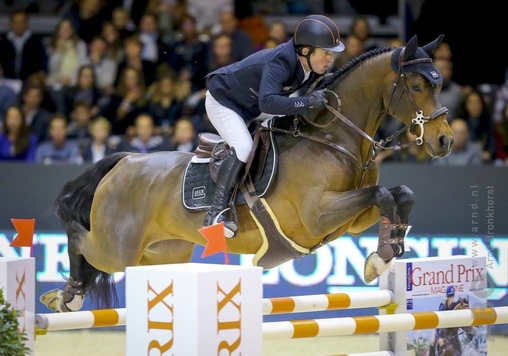 Tuesday, 01 November 2016
CDI-W / CSI5*-W Lyon
Team GLOCK successful in Lyon
Dutch GLOCK Riders Hans Peter Minderhoud and Gerco Schröder meeting at the same event is actually an infrequent occurrence. No wonder, given that Hans Peter takes on the courses at the best-known dressage arenas whilst Gerco takes his protégés to the toughest show jumping challenges in the world. But these disciplines do indeed come together every year at the long-standing Equita Lyon event in France - and so the GLOCK Riders too. Indeed it turned out that there was plenty to celebrate, because both of them achieved outstanding results.

Dressage riders were the first to embark on their world cup competitions on the Thursday. Here, Hans Peter relied on GLOCK's Johnson TN, the impressive KWPN stallion back in action for the first time since the Olympic Games in Rio de Janeiro in August. This son of Jazz gave a fresh and energetic impression in the first competition stage, the Grand Prix. His extensive canter, fluent piaffe-passage transitions and rhythmically skipped flying changes were rated particularly highly by the jury, whilst small hesitations during walking were to cost points. The ultimate score was 75.500 %, meaning fourth place in the FEI World Cup™ Dressage Grand Prix.

In the freestyle on Friday, the well-practiced team raised their game. Technical marks reaching 79 percent and up to 85.88 percent for artistic performance yielded a score of 80.224 % - third place for Hans Peter and GLOCK's Johnson TN in the FEI World Cup™ Dressage freestyle.

Gerco Schröder and GLOCK's Lausejunge also emerged with two top-class results to their credit. Over recent months, Gerco had given the nine-year-old Westphalian gelding plenty of time to keep calm on the difficult courses. Evidence that this sensitive investment in time had paid off was indeed delivered in an impressive manner by this bay son of Ludwigs As x Cornet Obolensky. At the Longines Grand Prix, a world ranking test over 1.60 m with jump-off, Gerco and GLOCK's Lausejunge remained magnificently penalty-free and took fifth place.

The second set of world ranking points came in the Equita Masters. Here again, the obstacles reached 1.60 m and, once more, they had to prove themselves over two rounds. GLOCK's Lausejunge actually seemed to fly over the jumps and, once again, didn't touch a single bar. For the second time this weekend, the GLOCK duo was able to ride into the award ceremony in fifth place. "I'm more than satisfied with 'Lauser'. He's developing enormously well and gives me a super feeling over the course. It just couldn't go better", said Gerco beaming.
<!-–TYPO3SEARCH_end–->