<!-–TYPO3SEARCH_begin-–>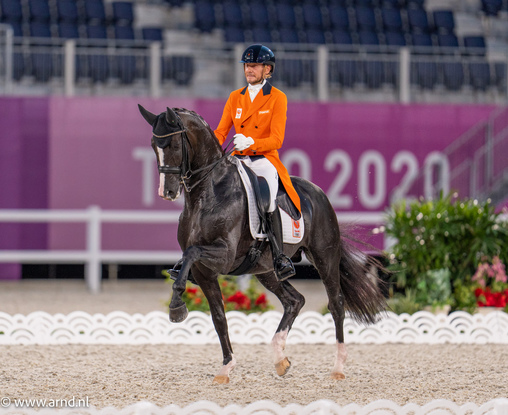 Wednesday, 28 July 2021
Tokyo 2020 Olympic Games
Three Olympic top 10 placings for Edward Gal and GLOCK's Total US
The Olympic Games are the career highlight of every athlete. The two GLOCK Riders, Edward Gal and Hans Peter Minderhoud, had the honor to represent the Dutch colors in Tokyo for the third time now. They were accompanied by their top horses, nine-year-old GLOCK's Total US and 13-year-old GLOCK's Dream Boy N.O.P..

The Grand Prix was ridden in two groups as a qualification for the Special, where again the team decision was to be made. Edward Gal with GLOCK's Total US, son of Totilas, was able to execute a wonderful competition performance as the first starter of the Dutch team and, with 78.649%, placed himself sixth among the best dressage riders in the world. Hans Peter Minderhoud also qualified for the Special and rode his GLOCK's Dream Boy N.O.P (Vivaldi x Ferro) to 13th place with 76.817%.

In the team decision of the best eight teams, all rider-horse pairs started again from zero. With beautiful rounds, the Dutch team, consisting of Marlis van Baalen on Go Legend and the two GLOCK Riders Gal and Minderhoud, ultimately succeeded in placing themselves fifth. Hans Peter and GLOCK's Dream Boy N.O.P. received 76.155%, while Edward Gal and GLOCK's Total US, in only their fourth international tournament, first championship and in their very first Grand Prix Special, achieved an amazing 79.155%! This made the duo the fifth best in the Grand Prix Special.

The top two pairs in each group, as well as the six horses and riders with the next highest scores, qualify for the Grand Prix Freestyle, the individual final and the highlight of the Olympics! In a heart-stopping final, Hans Peter with his beautiful GLOCK's Dream Boy N.O.P. and a great musical freestyle cracked the 80% mark and placed twelfth with 80.682%.

An awesome sixth place in the final of the individual decision went to GLOCK Rider Edward Gal with his exceptional stallion GLOCK's Total US. This gleaming black son of Totilas was impressive, accompanied by the sounds of his father's freestyle, with the finest of piaffe-passage tours, and the elasticity of his ride could scarcely be surpassed. The judges awarded 84.157% to this just nine-year-old, and therefore youngest, participant in the whole field.

Many congratulations to the medal winners, Jessica von Bredow-Werndl, Isabell Werth and Charlotte Dujardin!
<!-–TYPO3SEARCH_end–->